Jaguar F-Type V8 S Aquaplanes And Wrecks In Johannesburg
I was recently sent these pictures of a very sorry-looking Jaguar F-Type Roadster. Apparently the owner hit some standing water after heavy rains in Johannesburg and the rest is history. The incident happened on William Nicol Drive and according to bystanders, the V8 S F-Type had some serious damage and is likely to be a write off.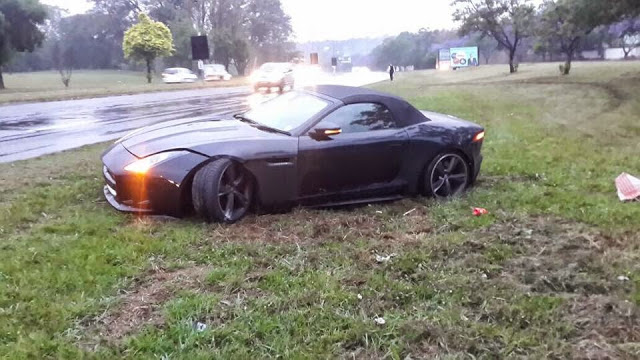 Body panel damage does not seem too serious but you can at least see that the front axle has been destroyed which could mean it is too expensive to repair and will be sent to the junkyard. On a sidenote, this Roadster spec is absolutely epic and I love those carbon wheels which can probably be sold for a fair amount of money. Glad there were no injuries but it seems like one less F-Type Roadster will be cruising the streets of South Africa.