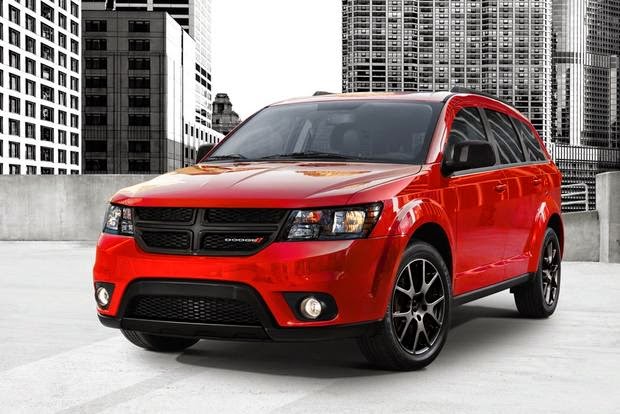 The vehicles that make up the crossover segment have certainly seen the most evolution on the market over the past few years, and this is especially true for 2015. Brands have continued to take strides in incorporating improved features, as well as all the beautiful amenities and powerful capability found in full-size SUV's, just in a smaller package. If you have been considering either upgrading from your sedan, or consolidating from your minivan or SUV, take a look below at these excellent crossovers for the perfect alternative.
Dodge Journey
The Dodge Journey is perfect for customers who are making the transition from SUV to crossover, and feel a little bit resistant to giving up all of the interior space they have become accustomed to. The Journey is incredibly versatile, as easily finding itself traversing through city streets as rural countrysides, completing both with ease and great driving dynamics. With an optional third row, the Journey is an excellent middle ground between a full-size SUV and small hatchback. The versatile crossover offers in-floor storage bins and in-seat storage. The Journey also offers excellent technological features to keep you and your passengers entertained, with an innovative infotainment system, SiriusXM and Travel Link, and five years of free service.
Jeep Compass
Jeep has long been known for their ability to create powerful, off-road vehicles with unmatched capability. For 2015, the brand has been able to take all of the features the legendary brand is known for, and instill those great features into a smaller vessel, in the form of the Jeep Compass. The Jeep Compass is certainly the most capable compact SUV, with a powertrain that makes it perfect for any environment or weather condition. The Compass is also extremely efficient, with a fuel economy of up to 30 miles per gallon. With a distinctive design and the iconic Jeep grille emblazoned on the front, it is unmistakable what the Compass can bring to the compact SUV market; capability, functionality, and premium materials.
The crossover market is constantly evolving, with auto makers becoming increasingly aware of the appeal of a smaller, compact SUV. As the segment continues to grow and become popular, brands have worked hard to incorporate all of the interior comfort you love from bigger vehicles, and excellent driveability seen in smaller cars, merging the best features into a single, excellent vehicle. Contact your local dealer to inquire further about the fastest growing segment on the market, featuring two of the best; the Dodge Journey and Jeep Compass.
Related Article: Chrysler Confirms Plug-In Hybrid Minivan