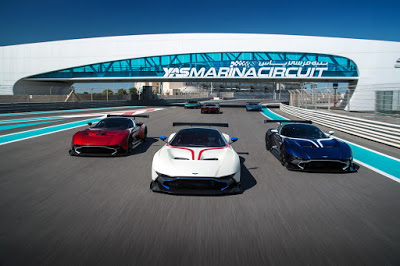 Six Aston Martin Vulcan's hit the Yas Marina Circuit this weekend which means that six lucky owners got behind the wheel of their 820hp, $2.4 million machines for the very first time. Before heading out and experiencing the Yas Marina Formula 1 track in their Vulcans, the customers first receive a bit of training inside both a V12 Vantage S road car as well as the Vantage GT4 race car.
Race driver Darren Turner mentioned that "the guys here this week have all been in the car as my passenger at recent events, but this was the first time they got to see and drive their very own Aston Martin Vulcan. It has been a pleasure to see how quickly they have all got up to speed and to hear their first impressions of the car. I predict many fun track days ahead for these guys!"
Seems the driver of the white Vulcan needs a little more practice as he is seen spinning on track in the video below (sorry about the vertical video syndrome). The sound this car makes is right up there with the best in the world and nothing makes me smile more than seeing it drift around a corner.