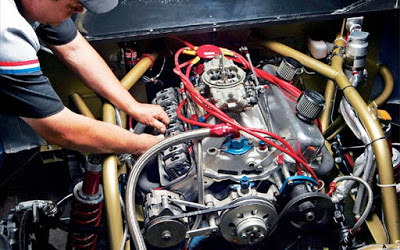 Your car is a very expensive bit of kit, so it would be silly to mistreat it! Be sure to keep your motor well looked after. Especially now it's winter. Here are some top tips to keep you on the right track when it comes to all things looking after your car.
Tune Your Engine
Do you really want to get that perfect performance power? Then tuning engines is the way to go about it. It's a very simple endeavour. The idea behind it is that, ideally, you want to keep your vehicle in the 'power zone' before and after each gear change. This, in turn, is to gain the optimum amount of power from your engine. This has the added benefit of keeping your engine in good shape, while also turbocharging it to the max! Now, you can really start to make use of all that horsepower when zooming down the motorway. Enjoy.
Pump Up Your Tyres
This one is super important. Keeping your tyres pumped up to the correct tyre pressure is essential to safe driving. It's very dangerous to drive with deflated or uneven pressured tyres as it can result in a serious accident or damage to your car. Be sure to avoid either of these scenarios by getting your motor's handbook out and checking for your car's tyre pressure. It should be relatively easy to locate, and for some cars, it is often found on the inside of the driver's door. Once you know the tyre pressure, be sure to pump up your wheels at the nearest gas station before a long journey. Substantial wear can hit your tyres when driving for a long time. So, make sure they're ready for the ride just as much as you are!


Keep It Clean
Do you regularly drive down a lot of country roads or somehow find yourself driving your car into an absolute state at the end of each week? If so, then it's important to keep your motor clean! Stray bits of debris, mud or even small, dead animals can do serious harm to your car's interior. The engine may malfunction should something that isn't supposed to be there finds its way in! A twig or animal carcas is enough to stop your fan working and cause the engine to overheat – which is a nightmare in itself! To avoid all of this, it's worth just washing your car down and cleaning out the grill at the front at the end of each week. That way, you can always rest easy that something nasty is unlikely to happen!
Ensure It Is Well Topped Up With Fluids
Keep your car well serviced and top upped with the right fluids. This means getting your oil levels, water, etc., regularly checked at a garage. Furthermore, ensuring you have the right amount of antifreeze and coolant is all part of getting your car ready for winter. So, don't slack – start doing it!
Hopefully, these top tips will enable you to take better care of your motor. For many people, our cars are our prized possession, so don't let laziness or ignorance spoil that!