Last week I had the top-of-the-range 3-Series Bimmer to play with but before we get into how it went, let me explain why BMW have changed it from the 335i to the 340i. Put simply, I have no idea! It does not have an increased engine size of 4.0-litres, but it does have a new 3.0 litre unit. BMW are just trying to confuse everyone and they were extremely successful as every person who say this car either said "Wow a four litre!" or "Never heard of a 340 before". Nonetheless the actual car is absolutely brilliant and I was extremely sad to see the Mediterranean Blue Metallic beauty driven off without me in it.
Let's get some numbers out before we proceed. The 3.0-litre straight six turbo puts out 240kW and 450 Nm of torque which drops the acceleration from 5.5 seconds in the 335i to 5.1 in the 340i, and what makes it seem so easy is the incredible 8-speed ZF sports-Steptronic.
On the outside of the car, you will battle to tell the difference between this and the non-facelift 3-Series but if you look hard enough, you will see daytime running lights and a refreshed set of tail lights. You will be asked again and again if this car is actually new and you will have to let people know that it is thanks to these tiny detail changes.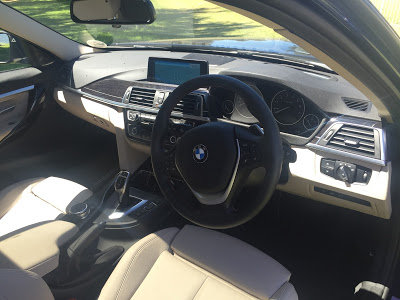 On the inside it looks like a regular 3-series. This particular car was fitted with the 'Dakota' Oyster leather option combined with the dark Oyster accents and while the leather colour compliments the stunning Mediterranean Blue exterior colour, something was off with the dark Oyster accents. This should be carbon on the range topper.
Driving the car is where it all comes together. In comfort mode, the gearbox is sublime, it's quiet and refined just like a normal 3-Series. The parking tech in this particular model makes it pretty much impossible to have an oops with camera's everywhere and if you still don't trust yourself to make a good call on the parking, the park assist will help guide you into the dead center of the parking spot. It is a bit freaky to watch the steering wheel going beserk while you sit back and control the speed of the process but when showing this function off to people, they are amazed at the accuracy of the parking when it is complete.
Changing from comfort to Sport or Sport+ is where this car shines. The exhaust gets a tad louder (not nearly enough), the gearbox revs higher, the throttle is more responsive and when you give it the beans, you can go from standstill to 100 km/h in 4.8 seconds. After a few timed runs doing this sprint, this seems to be a conservative number from the Germans as it seemed closer (if not below) the 4.5 second mark. Launch control provides a no nonsense get off the line as fast as possible approach and to engage this function, you need to switch off the traction control option. A bit of advice is to switch the traction control back on when you have finished your launch as the 320 horsepower shunt from behind you breaks the traction far too easily wagging the tail very happily. Yes this is fun to a point but if you are not careful, it will bite you hard and you will soon be waiting to be collected after climbing one of the kerbs in front of you.
This car on the open road is a pleasure to drive. Active cruise control combined with ample power to overtake means the BMW 340i eats up kilometers with ease. The active cruise control is a tad too conservative because even on the least sensitive setting (allowing you to get closer to the car in front) it slows you down harshly and with a gap of about 4 to 5 cars in front of you. Yes safety first is what they had in mind but it can be a bit frustrating at times when you want to show the car in front that you need to get past by coming a little closer.
One of the biggest surprises for me was the price. The base price on the 340i is R656,000 but this particular vehicle was equipped with many of the nice-to-have options shooting the price up to R838,533. When you think you can get a low mileage M4 for about R60,000 more, this is a little hard to swallow but there are lots of people out there who want the subtle looks of the 340i with near M3/M4 performance. This is a wolf in sheeps clothing and it is a properly good machine!
PRO's
Gearbox
Tech
Comfort
Subtle
CON's