Prior to this test I had only had the chance to get behind the wheel of the non-facelifted version of the A45 AMG for about 5 minutes so I had expectations but having it for a few days is a whole different story all together.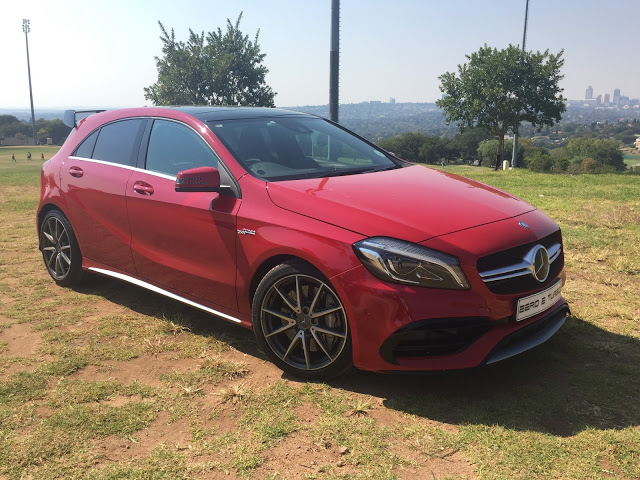 The team from AMG were clearly annoyed with the introduction of Audi's RS3 packing 362 hp so when it came time to facelift their hot hatch, they tweaked the 2.0-litre turbo engine to an impressive 376hp. What does this do? Simply put it confirms the new A45's place at the top of the performance tables and makes it the fastest accelerating hot hatch you can currently buy. What else has changed between this facelifted version and the version prior? Other than getting the most powerful production four-cylinder on sale, it also gets revised gear ratios, adaptive damping and aerodynamic tweaks.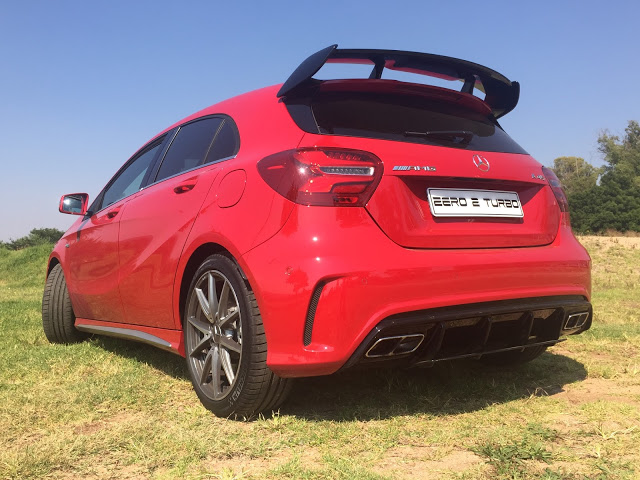 Looks wise I think the aero tweaks are an improvement from the previous model but only a trained eye will pick up the subtle changes. It has gained some mildly updated bumpers, a diamond front grille, slightly modified graphics for the lighting clusters and LED headlights.
Once you are behind the wheel and moving, this is where this car comes to life. DYNAMIC SELECT driving modes allows one to choose from Comfort, Sport, Sport + and Individual modes which upon selection will modify the handling and performance characteristics. In comfort, the gears change early, the throttle is a little sluggish and the aim is to be as comfortable and efficient as possible. Go up to Sport and the gears change later and exhaust gets louder but rotate the knob into Sport+ and the hatchback turns into a barking hyperhatch. Ride hardens, throttle response increases drastically and the noise that comes out of those pipes gives pedestrians (and passengers) a proper fright. The 7-speed DCT gearbox is as impressive as ever. It is extremely smooth in Comfort doing your normal runaround town journeys but the more aggressive driving settings allows you to fire away from junctions with those full throttle upshifts accompanied by an exciting exhaust bang.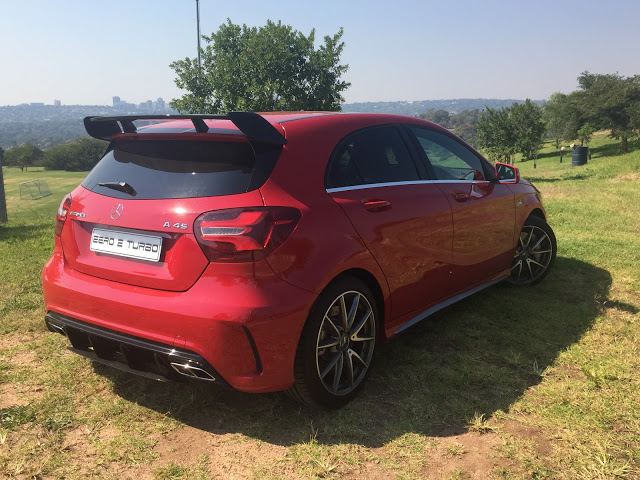 Thanks to the increase in power, the 0 to 100km/h time has dropped by 0.4 seconds to just 4.2 seconds (without affecting consumption). If you want you may remove the limiter which will allow the little hatch to hit 272km/h. If you want to get off the line quickly, you have the option of launch control "Race mode" which is actually mind-boggling to experience (watch us perform a launch in the video below) thanks to a new metered launch system which holds the car in place until it is really ready to throw you off the line.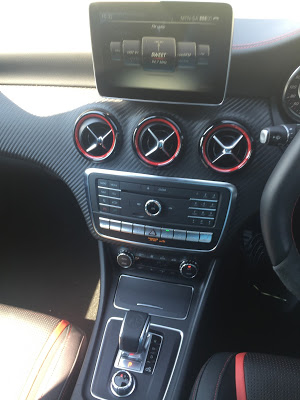 Inside the standard equipment is fairly generous as you get a reversing camera and an eight-inch touchscreen sat-nav system which is surrounded by galvanized switches. Other changes include a revised instrument cluster with tubular design along with fresh colors and materials.
There is no denying that the new Mercedes-AMG A45 is a hyper hatch and thanks to the new adaptive dampers, it is actually very easy to live with. If only it wasn't so damn expensive but yes its competitors are a similar price too so that's just they way it has to be. Base price is R731 500 but if you add a few of the nice-to-haves, you will easily reach R800 000 and more.
PRO's
Performance (fastest hatch on sale today)
Sound
Launch control
Gearbox
Boy-racer styling
CON's
Slightly bumpy around town
Pricing
Thirsty for a small car (even driving cautiously)