Hennessey Venom GT Spyder Is Fastest Convertible In The World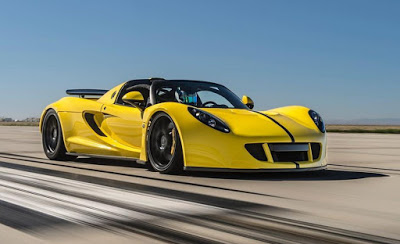 It is Hennessey Performance's 25th anniversary so they decided to break the top speed for an open-top production car. On the 25th of March this year, the Hennessey Venom GT Spyder posted a top speed of 265.6 mph (437 km/h) at California's Naval Air Station Lemoore. The speed was confirmed by Jim Lau, technical director at the independent speed-testing firm Racelogic and was witnessed by U.S. Navy Commander Darren Fouts, Air Operations Officer. Brian Smith drove the car to its record run. The previous record for an open-top car was 254 mph which was achieved by the Bugatti Veyron Grand Sport Vitesse in 2013.
The car weighs just 1244 kg's, much of it being a twin-turbocharged 7.0-liter V-8 that cranks out 1,451 hp. Hennessey has a more potent successor in the works that will likely end up doing battle with Bugatti's 1,480-hp Chiron. A rendering of that car is also shown in the video.