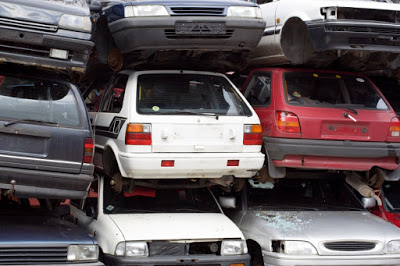 Buying Auto Salvage
For those of you who are completely novice to buying auto salvage, there are likely to be a list of questions. This guide aims to answer some of the main questions for you before you buy a salvage car to repair or salvage car parts, everything you need to know about auto salvage, damaged repairable cars and what happens when a vehicle comes to the end of its life (ELV).
What is Auto Salvage?
Auto salvage is the name used to describe the process by which vehicles are dismantled and recycled. All working and reusable salvage car parts are systematically removed from the salvage vehicle to either be sold as salvage car parts where possible through a salvage dealer. Those that are not reusable are then recycled. Any non – reusable parts are then disposed of legally and safely. Auto salvage yards, scrap yards, junk yards, wrecking yards or auto recyclers are the different terminologies which you may find when looking for a place where you would find auto salvage. Reusing functional salvage car parts and materials, or buying a damaged repairable car to repair can also be a way of encouraging environmental conservation as it reduces waste.
Potential savings from buying a damaged repairable car or salvage car parts..
Provided you have the necessary skills, experience and time to spare, buying a damaged repairable car for sale or doing repairs with salvage car parts can be a great way of ending up with the car of your dreams for a fraction of what it would cost to buy new. Likewise, upgrading your current vehicle can be much less costly. Many salvage cars which are dismantled are relatively new and are only being dismantled due to an accident when the car structure is too damaged for it to be sold as a damaged repairable car. The salvage car parts and trims recovered from these vehicles are in good working order and reusable…..and affordable.
Understanding auto salvage is the key.
Knowledge of the categories which insurance companies classify salvage cars under when they are written off and sold as auto salvage is the first step to understanding what you are talking about before buying a salvage car or salvage car parts.
When a car is written off following fire, theft or accident, insurance companies categorise vehicles based on economic and safety grounds. These categories are labelled A,B,C,D,E,F and X. A-D being the most predominantly used.
CAT A Auto Salvage – Selling or driving a CAT A salvage vehicle is illegal. These damaged vehicles are the worst kind of insurance write off. They have generally been written off on safety grounds rather than purely economic reasons and are Not For Resale.
Cat B Auto Salvage – Written off due to structural damage and as with CAT A vehicles, CAT B cars are not to be driven or resold as a salvage car for repair. CAT B salvage cars however can be stripped by an auto salvage yard and any working parts resold as salvage car parts.
CAT C Auto Salvage – These vehicles have been written of due to economic reasons. CAT C cars/vans have sustained moderate to heavy damage and have been deemed uneconomic to repair by the insurance company. The damage however could be repaired… for much less if you can do it yourself with salvage car parts. CAT C auto salvage can be sold as salvage cars for repair.
CAT D Auto Salvage – Again, written off due to economic reasons. CAT D auto salvage however has sustained minimal damage and will almost always be sold complete as a damaged repairable car. CAT D salvage cars can potentially be fixed and the cost of repairs still stay within the cars marketable value.
Safety
Safety should always be key when purchasing CAT C or CAT D salvage cars for repair. Ensuring that you obtain as much information as possible regarding the circumstances surrounding why the vehicle was written off in the first place will give you a better indication of what damage the vehicle could've sustained. Always ensure that the structural integrity of any salvage vehicle is sound and that there has been no damage to the chassis. If you are unsure or unable to check yourself, then ask a qualified mechanic to check your salvage car over before you buy it.
Always ensure that all repairs are carried out professionally. Doing repairs and upgrades yourself will of course be the cheaper option, however badly repaired damaged repairable cars could end up costing you much more if the repairs are not carried out properly. Worse still, poor vehicle repairs could potentially turn your car into a death trap! Always be 100% confident that you are qualified or experienced enough to carry out the repairs if you are doing them yourself and if you are in any doubt, get more difficult repairs carried out by a qualified mechanic.
Insurance
Some insurance companies will be happy to insure repaired auto salvage and some will not. Check with your insurance company prior to purchasing your damaged repairable car what their stipulations and exclusions are. Be prepared that many insurance companies will require you to pay an added or an increased premium. The more information that you can give regarding the original write off and any receipts for repairs may well help.
It is also worth considering that in the event that you may need to claim on your policy, the insurance company may well take into account that your vehicle was a salvage car when assessing it's value and the pay out you receive may be commiserate with the price you paid, or the price of a repaired vehicle rather that the marketable value new and won't take into account the cost of repairs that you have made.
Where to buy auto salvage
All auto salvage should always be purchased from a professional and accountable vehicle recycling and processing facility. Buying CAT C or CAT D damaged repairable cars or salvage car parts from a registered and accountable salvage dealer will ensure that you obtain all of the necessary documentation and assurances for your own peace of mind and for insurance purposes.
Salvage Car Parts
Salvage car parts are obtained from written off vehicles which are not structurally sound and unable to be sold as a salvage repairable car (generally CAT B). They can be purchased from reputable and accountable auto salvage yards, scrap yards, and through online auto salvage dealers. Buying online can be convenient and often you can acquire more sought after, obsolete and rare parts from anywhere in the country or abroad at what seems like a more competitive price. Remember however to take in to account the price of postage and make sure that you have the correct part as the cost of returns could be steep and buying online means that you are unable to check it over yourself. You may also not have any warranty purchasing this way.
Have as much information as possible in all circumstances when purchasing any salvage car parts. Do your research, regardless of whether you are buying from an auto salvage yard or online. This will ensure that you get the correct part and that you are covered for any faults. Check guarantees and assurances and keep your receipts for your records and insurance purposes.
Fitting salvage parts
Fitting salvage parts yourself will of course save you money. However, as with purchasing a salvage vehicle, repairs will not be guaranteed if not carried out by a professional mechanic and any there will be no receipts or paperwork for work carried out. You should always be sure that you have the necessary skills or experience to carry out any repairs. Faulty repairs can cost more in the long run as salvage car parts are nonreturnable once fitted and there can be a knock on effect of damage to other parts if one part is fitted poorly.
Faulty repairs can also invalidate any warranties and in some cases cost lives….. If you have any doubt in your experience or abilities, consult a qualified mechanic for advice or to fit your salvage car parts for you.
End of life Vehicles (ELV)
An end of life vehicle (ELV) is one which has come to the end of its useful life, whether this be through damage or age. Natural ELV's are vehicles which are simply worn out, through age or use. Premature ELV's are vehicles which are no longer useful due to damage and are not reusable in any way.
The end of life process involves dismantling and stripping the vehicle in accordance with European and UK guidelines. This process should only be carried out, by law, by a registered ELV salvage yard.
Author: Nik Wilkinson on behalf of AFF Vehicle Services