As most of you will know I recently had the chance to get behind the wheel of the drop-top baby bull and as it is pretty much the Coupe with the option to have the wind in your hair I will not be getting technical but rather try and explain what it does to you on the inside.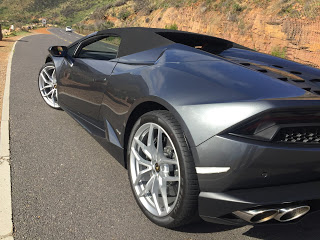 First the looks. With that roof off it looks absolutely superb from every single angle. The rear shape is slightly different to the Coupe and this is for the better in my opinion. The roof opens and secures in just 18 seconds (officially but feels quicker) at speeds up to 50 km/h so when in Cape Town, you can open and close it all you want without worrying about it getting stuck. This is just a sneaky comment saying in Cape Town traffic at the moment you have no chance of going over 50 km/h. What is the benefit of having the roof down? Well obviously you can hear the mighty V10 roar and bark at people behind you but open-top driving (Cape Town especially) can take the theater of it all to a whole new level and since the weather played ball, I was in petrolhead heaven!
Around the bends of Chapman's Peak it grips and swings you to the next bend and the noise bouncing off those rocks is something I will never forget. So much so that I was a little worried about a small rockslide thanks to the 602 horsepower screech behind your head. Most open-tops need a but of a sturdy structure to compensate for the chopped off roof and the Italian marque used a hybrid aluminium and carbon-fibre frame and a body made of made from aluminium, and composite material.
I had the bull for 2 days so I decided to head out to the Hugenot Tunnel just to see what she sounded like in the tunnel and simply put, it is magical. On the way out there I couldn't help but notice how incredibly comfortable the open-road driving was. Pop it into STRADA and Automatic and she buzzes along (saving fuel thanks to cylinder-deactivation) like you are in a comfortable Sedan. Yes you can only fit two people and a duffel-bag (if you lucky) but that is not why this car was made. It was made to assault the senses and turn heads and boy does it do that! To put into words what noise it makes is pretty much impossible and turns out it was rather hard to capture it on video too. Alas I did try and you can give the video a listen at the bottom of this post.
Does it feel any different to the Coupe brother? With the roof on not a slight difference but drop that roof and you will be rewarded in typical bonkers Italian supercar style. What a machine!
PRO's
V10 noise
Looks
Roof mechanism
Open road comfort
CON's
Nose is incredibly low (lifting kit is compulsory)