You may remember in the past that we posted an article about the Volvo Concept Coupe. Making its debut at the Frankfurt Motor Show back in 2013, the car caused quite a stir among those that saw it! The Concept Coupe looks nothing like Volvo's past and present vehicles. What the design team at Volvo did was create something special.
If you look at the Volvo website, it says the car uses contemporary Swedish lifestyle and design. And it blends them with iconic elements from classic Volvo cars of the 1960s. Of course, it does all this with a modern and futuristic twist!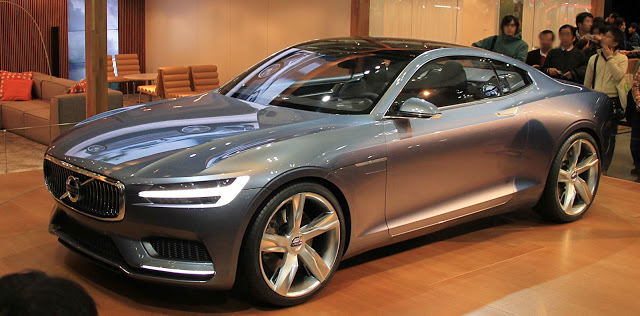 As you know, car manufacturers often shift design styles or languages as some firms call them. Volvo seldom detracts from its trademark boxy curves that adorn all the current models. The Concept Coupe is like the black sheep of the family. In fact, you wouldn't know it was a Volvo if it didn't have that familiar badge on the grille!
Why should Volvo take inspiration from the Concept Coupe?
As you can see from the photo above, the Concept Coupe has a sleek, stylish and elegant design. You might be wondering why the Swedish car marque should take inspiration from it?
Well, the problem Volvo has is that it's too safe. I'm not talking about their dedication to vehicle safety; that should never change. What I am saying is that their car designs are too familiar and standard.
Volvo hasn't changed their design style much over the years. All they seem to do is alter existing styles for a refreshed look. Take a look at some examples over at www.harratts.co.uk to see what I mean.
It seems like Volvo is a little scared at thinking outside the box when it comes to design. As you know, car manufacturers unveil concepts to gauge people's feedback on them. It's a smart marketing exercise that helps them steer into the right design direction.
The issue I have is Volvo haven't done much with the positive feedback received on the Concept Coupe.
It's been three years since it first got unveiled in the motoring world. Usually, by now, a car manufacturer would reveal how their next model is going to be based on such a car. But, Volvo hasn't done that. In fact, all they've done is showcase it on their website!
Here's why I think Volvo need to start getting inspired by the Concept Coupe for their future models:


They need to appeal to younger drivers
Volvo drivers tend to be mature and professional. For some reason, they haven't targeted younger audiences. Sure, the select few Polestar editions of some models look sporty. Check out this video on www.youtube.com for an example. But, they don't have anything in their current lineup that attracts the under-30s.
They must offer something new to the motoring world
The needs of today's motorist will be different to the requirements of tomorrow's drivers. Volvo hasn't done much to captivate the motoring world by boasting something innovative. At the moment, they are just followers rather than trendsetters.
The thing is; Volvo has the power to shock the motoring world. By offering something new to the market, they can be the go-to brand for most drivers.
Don't get me wrong; I think Volvo is a good car brand. They just need to do a bit of work to become outstanding again. And I do believe they can do so by taking inspiration from the Concept Coupe.