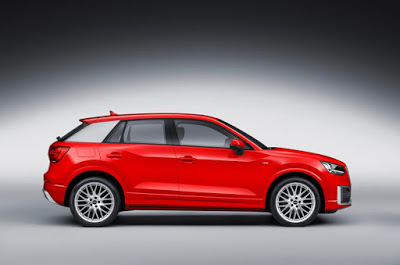 Audi has long been known for its battle with its German counterparts, BMW and Mercedes. The three German manufacturers battle it out for the best offerings in the luxury vehicle sector. Mercedes are rising to the challenge, with a supercar coming out next year. BMW are also working on some high-quality vehicles.
Audi is no slouch, though, and the Q2 shows it. Instead of focusing on the city driver market or those looking for a large utility vehicle, Audi has them all covered with the Q2. The vehicle is a fancy crossover suitable for all purposes. Here's a closer look.
Driving
There's a range of engines on offer for the Q2. The highest of the range is a 2.0-litre TDI engine serving up 148bhp. The standard is a 148bhp 1.4-litre turbo petrol engine, which can give you 54.3mpg and go from 0-62mph in 8.5 seconds. Engines with fuel economies of up to 64.mph are also available, and cheaper options will be on offer by the end of the year.
It offers a powerful drive with firm suspension. Turning feels sharp and reliable. Even in small city streets, the car feels extremely nimble for its size. The seat height makes it easy to see out onto the road, although the small side and rear windows make the all-around vision a bit worse. Nonetheless, it's easy to drive, and suitable for all kinds of driving.
Value
Price can vary depending on the features you go for. However, the standard features give a starting price that's surprisingly low for an Audi vehicle, making it great value for money.
Many dealerships stock Audi models and finance plans make them easy to buy. Websites like spire automotive can give you an idea of some of the deals on offer.
Audi warranties can last for three to five years, giving you peace of mind for any malfunctions. Their customer service spans online and phone, so it's easy to contact them.
Design
The Q2 looks strong and sturdy on the outside. It stands high off the ground, with alloy wheels from 16in to 19in depending on the trim you opt for. The front design is stylish and braggadocious, with a patterned grill proudly displaying the Audi logo.
It has the muscular appearance of an SUV. That said, it is Audi's smallest ever SUV. The body of the car is available in 11 colors, with a bent metal body giving it a nice reflective look.
On the interior, the car feels larger. Space is used incredibly efficiently, and plenty of storage room is available. The materials look and feel expensive, as is to be expected from a luxury brand. For an extra price, you can get fine leather sports seats, but the regular cloth/leather mixture still looks good. There are plenty of upgrades for lighting and comfort.


Features
The vehicle offers a 12.3-inch TFT screen. This contains Audi's virtual cockpit technology. You can control the media settings, sat nav, and other great technological features from here. It's easy to access things like Google Maps with the touchpad while driving.
The Q2 also has a range of safety features. Its auto-emergency braking can detect cars or pedestrians, reducing the risk of road accidents. You can also make use of auto-parking, blind spot monitoring, and cruise control features.