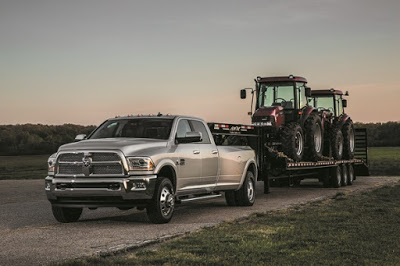 You use your truck for a lot of things, and towing may be one of the most important. But towing properly and safely is so much more than just hooking up and driving.
You are responsible for the safety of yourself and other drivers when you are towing something. Whether you tow a trailer for work or a boat for fun, you should be aware of a few safety tips to ensure that you get to your destination on time without incident.
Allow Plenty of Stopping Distance
Towing a trailer with a heavy load on it is very different than driving your truck under normal conditions. There are several things you need to be aware of to drive safely.
First, you must be aware that the ability to stop quickly will decrease the heavier the towing load is. That's just basic physics. For example, the general safe-following distance is two seconds, which, when traveling at 90 kph, means you should be at least 50 meters behind the car in front of you under normal conditions. But with a heavier load, it will take you longer to stop, so you should at least double the distance to be safe.
This also means that you should avoid "pushing" any cars in front of you. Take your time when towing large loads.
Know Your Limits
It is important to know the towing ratings and weights for you vehicle before attempting to tow anything. The ratings you see on the truck and trailer themselves are determined by the manufacturer and designed to be used with a vehicle in ideal condition. You need to make sure your truck is able to handle the load.
Many vehicles, like the RAM truck 3500, should have no problem hauling day-to-day loads like small boats and construction equipment. If your truck is older, or has had problems in the past, you need to make sure that it can handle the weight. If not, you run the risk of hitch coupling or fishtailing, putting yourself and others in danger.
Use the Right Equipment
Choosing the right equipment for towing is more than just choosing the truck you want. There are other pieces of equipment to consider for safety.
The right hitch is important, because this is the piece of equipment that connects the load to your vehicle. Each hitch has a weight rating, so make sure you know what you will be towing before buying one. There are also different styles that hook up to your vehicle differently.
The trailer you choose is important as well. The heavier your loads will be, the more durable your trailer needs to be. Sometimes, you will need extra tires to accommodate the weight. Whichever you choose, just remember that the weight of the trailer will factor into your towing capacity, so choose wisely.
Towing things is probably one of the reasons you bought a truck in the first place, so make sure to do it safely.
Scott Hart is a mechanic and works for a garage which also operates a rescue service. He writes about a range of auto related topics, from basic car maintenance to dealing with accidents and break downs.