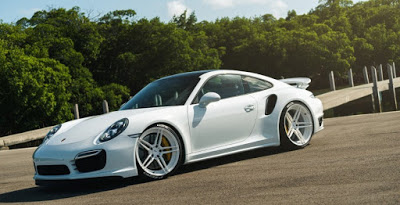 There's no denying that the Porsche 911 set a precedent when it hit showroom floors and the European racetracks. Porsche designed the ideal high-performance car that is fun to drive, reliable and easy to maintain. Reputed as one of the longest-running sports cars produced, the 911 series has become an all-time favorite for auto enthusiasts.
If you own one of these and are considering a little tune-up or upgrade to enhance performance or functionality, you are going to need a few things. First, and most important, you need to make sure you get the right Porsche modification parts for your specific model. These parts can be OEM or aftermarket, as long as they are from a reliable source. Second, you need the right tools. Don't just make do with what you have, but rather make sure you have the right sizes, fitments and options. And third, you should to know where to invest in upgrades that will have the greatest impact on the performance and durability of your Porsche 911, so that's what we've outlined below.
Engine Parts Modifications
If you're looking for more power, torque, and speed, you might consider upgrading some parts in the engine. 911s manufactured in the 2000s are equipped with turbocharged engines. While the stock engines are reliable and pack a lot of power, if you're looking to hike it up about 30%, you can invest in new engine parts such as a hybrid turbo or larger turbocharged engine. A nitrous injection kit would work wonderfully to increase the horsepower output by as much as 50. If you're going to completely replace the engine, you should keep in mind that you may need to invest in other Porsche modification parts for the vehicle to withstand the increased power and size of the new engine you intend to put into your 911.


Intake and Exhaust Modifications
Another upgrade in the engine you might consider so as to increase the power and speed of your Porsche 911 would be a new intake system that provides clean air to the engine faster. Similarly, a new sports exhaust system will help rid the waste from the engine more quickly. Both of these upgrades will improve the power and efficiency of the engine.


Brake Modifications
Performance brake kits upgrades are a very popular choice for a high-performance car like the Porsche 911. Materials such as carbon ceramic are being used on brake disks, and brake pad technology has certainly evolved immensely since the introduction of the 911s back in the 70s. New braking features offer active, passive, integrated, and newly introduced automated braking application for assisted driving vehicles. Installing larger disks and pads will give your 911 more stopping power, which is ideal considering all the power and speed you'll have in the engine. Stopping in a short distance is certainly an important safety consideration.
Suspension Parts Modifications
If you are the owner of an older 911, then you've likely noticed the handling is a bit soft. To improve upon the handling and maneuverability of your Porsche, you should consider upgrading the suspension parts. Investing in an adjustable performance suspension kit will allow you to place the 911 at a height that is most suited to your driving style and the situation in which you're driving.
Each of these modification ideas will take your already high-performing Porsche 911 to a whole new level. Whether you're looking to improve speed, power, braking abilities, maneuverability or even all of the above, these suggestions will get you there. When considering these new auto parts, be sure that you always work with a trusted vendor that sells genuine Porsche parts so that your 911 achieves optimal performance. That way, you can compare your old 911 to the new 911s with confidence.