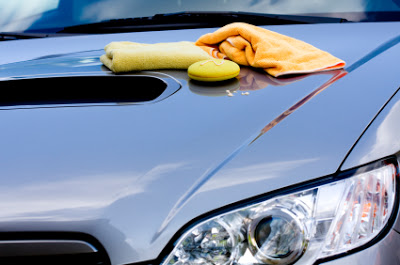 Detailing is a super intense cleaning job. Detailing is cleaning the interior and exterior of your car so it looks almost new again, a process that usually takes a good amount of time. You may want to do this to get rid of the effects of winter weather, bird droppings, or pollutants that are man-made.
There are two methods of getting your car detailed: You can have it done by a professional, or you can do it yourself.  Professionals usually do a good job but it's going to set you back around a couple hundred dollars, so why not try it out yourself?
If you're doing detailing outside, don't do it in the direct sun.  When a car's surfaces, such as the interior dash or exterior paint, are too hot, the fluids you use for cleaning will dry out quickly which makes the detailing process more difficult.  Either wait for a cool day or perform this process in the shade.  If you are considering carrying out a detail on your vehicle, here's a guide to making your car look like new!
Step One – Vacuum the all your upholstery and floor mats.  Be sure and use a skinny vacuum nozzle to get into all the cracks of seat cushions and between your seats.
Step Two – If there are ground-in dirt or stains on the carpets or seats, apply a foam cleanser and rub it into the needed areas.  After soaking for a few minutes, blot up the moisture with a dry cloth and allow for drying.
Step Three – If you have leather seating, apply a good conditioner to it.  Go slow and get the conditioner into all the seating cracks and stitching that exist.
Step Four – Wipe hard interior surfaces with a mild all-purpose cleaner, then use an interior dressing such as Armor All to give the surfaces a nice shine.  This step makes the instrument panel and dash look good.
Step Five – Clean the mirrors and windows with a spray-on cleaner.  A professional trick is to use 4-ought steel wool and single-edge razor blades to get gunk off the glass.
Step Six – Clean your wheel rims using a wheel brush and degreaser or wheel cleaner.  Allow your wheel cleaner product to penetrate wheel rims for 1 minute before brushing. After cleaning, you may apply a special wheel surface enhancer or metal polish to give the wheels a new look.
Step Seven – Wash the tires with whitewall tire cleaner, then put on some tire dressing for a glossy shine and new look.
Step Eight – Spray degreaser on your engine and related parts and let sit for 20 minutes. Then wash off with a pressure washer or garden hose.
Step Nine – Wash the vehicle's outside with a car washing soap – not a dishwashing soap.  Dishwashing soaps are too harsh for today's car paint jobs so they need to be avoided.  Also, use a deep-pile terrycloth towel to trap contaminants so they will not grind into the car's paint surface. Washing your car like this will get you familiar with the car's surfaces.
Step Ten – Apply a car wax or polish by orbital buffer or hand.  Follow the directions on the wax or polish container.
Article Courtesy of: Hoffman Chrysler