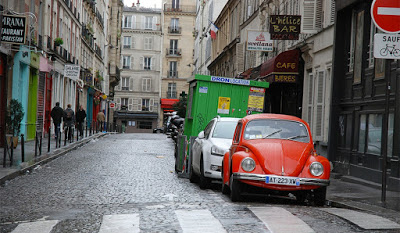 Aside from the fact that you drive on the right and the road signs are in French, driving in France is similar to the UK, and as such it's not something that you need to worry too much about. However, if you're unfamiliar with driving on European roads it can be easy to get confused about the rules. Here's what you need to know if you're visiting France and want to do some driving.
What you should bring


If you are brining your own car to France, the you'll need to carry with you many of the same documents and items that are required for driving on UK roads – however, there are a few differences that it is good to be aware of. The documents that you are required to have include a full and valid driving licence along with proof of insurance, proof of ID (this could be your passport) and proof of ownership of your vehicle. It's also notable that your vehicle must be taxed in the UK to drive in France.
You also need to have reflective jackets for each occupant in the car as well as a warning triangle, headlight beam converters and a GB sticker. It's not especially well known but in France you are required to carry a breathalyser in your vehicle at all times, although there is no current punishment for not doing so, it's worth having one to save you the hassle of a telling off from the police if you do get pulled over.
Distances


France is deceptively large – much larger than the UK, and as such it can be easy to look at a map and underestimate the distance and time it takes to travel between places. For example, if your holiday plans involve taking a ferry to Calais then driving to holiday villas in the south of France you need to prepare for a very long journey. For example a journey from Calais to Lyon takes around 7 hours, and if you're continuing down to the coast, Marseille is a further 4 hours on top of that.
Completing this drop would almost certainly require a night's stop somewhere in the middle. You may even prefer the idea of flying to an airport and then hiring a car to avoid the journey. And also prepare yourself for any day trips – even if it looks fairly lose to you on a map, the distance can be deceiving.
Motorways


Motorways in France are referred to as autoroutes and are indicated by an A at the start of their name (for example, the A26). These are undoubtedly the fasted way to drive through France and they are exceptionally well maintained but it is worth noting that these are toll roads and you will have to pay to use them. Additionally you can enjoy far more scenic journeys by driving in the smaller so-called national roads and departmental roads.
On the autoroutes the speed limit in normal conditions is 130kph, which equates to about 80mph. In the rain this is reduced to 110kpg (just under 70mph). In very poor visibility this can be reduced even further to 50kph (around 30mph).
Satnavs with speed camera alerts


It should be noted that while in the UK it is legal to use satnavs that provide speed camera alerts, these are against the law in France. If your satnav shows these alerts then you need to disable them before you reach France. You can face heavy penalties if you are getting speed camera alerts and ignorance is not a defence.
Low emission zones


There are now low emission zones in Paris, Lyon and Grenoble and cars must display an air quality certificate – this includes UK registered vehicles. If you don't purchase and display this certificate you will be fined, so it's worth doing.