With styling that makes everyone think of Aston Martin, the 2017 Ford Fusion is a comfortable, spacious, and absolutely beautiful new addition to the highly competitive mid-size sedan niche. The fusion has enjoyed massive popularity since it came out, and the recent refresh has offered drivers a range of new aesthetic and practical features. Here's a closer look at Ford's latest sedan…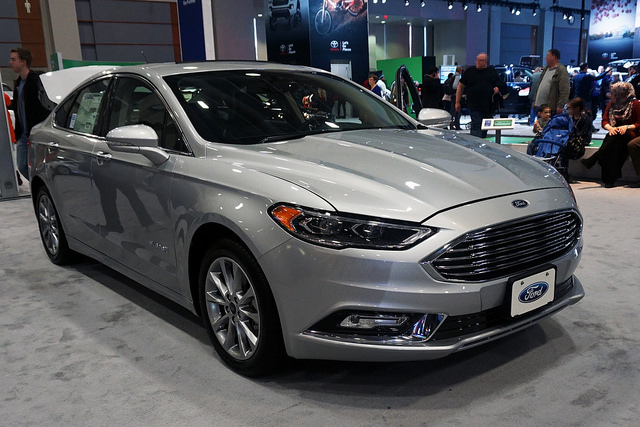 Performance
The stance, profile, and detailing of the new Fusion renders it one of the sexiest cars to hit the market in recent years. The low, sleek shape makes it especially attractive in darker colours. You'll notice that this year's grille is somewhat wider and sleeker, along with the the addition of LED headlamps. For 2017, Ford has added a new powertrain option for the Fusion. The "sport" model comes with a twin-turbo 2.7 litre engine, which boasts 325bhp and 380 pound-feet of torque. This is considerably more powerful than similar V-6 engines found in cars like the Accord and Camry. Many buyers may be disappointed if they opt for the base powertrain, which only offers 178 horses in a 2.5 litre 4-cylinder engine. The performance is adequate, but will feel a little lacklustre considering the car's sleek, speedy looks.
Comfort and Safety
The interior of the fusion screams quality. The materials look and feel great, the noise and vibrations are suppressed well, and even subtle cues like the sound of the doors closing tells you you're driving a solid and well-built vehicle. A few changes to come in in 2017 include a rotary gear-selector on the manual models, which allows more space for storage, and Ford has said that the new Fusion's cup holders are more ergonomically placed, though we're not too sure about that! The USB ports have been repositioned, and now light up to help you when you're fumbling around at night. Previous versions of the Fusion have fallen short in terms of safety compared to other sedans, and this year Ford have piled on a slew of new features to help you avoid a crash. These include adaptive cruise control, which works the car down to a full stop and then back up to cruising speed, as well as pre-collision assist including pedestrian detection, a sophisticated lane-keeping system and alerts to work against driver drowsiness.
Styling
Ever since this generation of Fusion came out in 2013, it's had a reputation as one of the most stylish mid-size sedans on the market. This version certainly isn't going to break the trend! Whether you're thinking about the overarching design, or the up-close details, this is an objectively beautiful car. The most notable changes in the 2017 version are the smoothing out of the grille, the taillights and the front fascia. There's also an elegant chrome strip added to the rear of the car, which bisects the taillights. The gentle arc of the roof reminds many people of the Audi A7, but from the side profile, it's unmistakably a Ford. If we had to use one word to describe the looks of the new Fusion, it would be "bold".