When the Alfa Romeo 4C was released I could not wait to get my hands on one but because of the low numbers that arrived in the country, it was very hard to get a press test. Now that things have calmed down and there is a Spider version  in the press fleet, I had my time with it and this is what I had to say.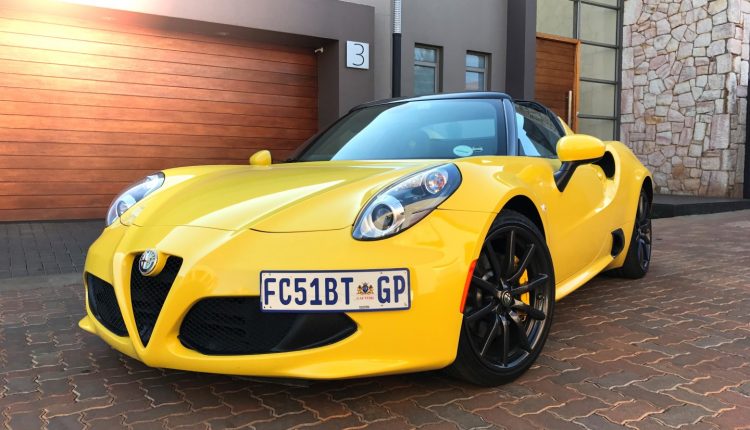 My initial impression as the vehicle arrived was just how petite the package was but the incredible burble coming from a little 1,75-litre engine surprised me the most. Even in the bright and bold Giallo Prototipo paint job you hear it before you even see it. While we on that topic I could not believe the number of heads this little Italian turned. Out of 100 individuals (for the sake of comparison) about 30 turned as they saw a bright yellow car, about 20 turned as they knew the 4C Spider was not a common sight and the remaining 50 turned because they could hear something growling and barking next to them.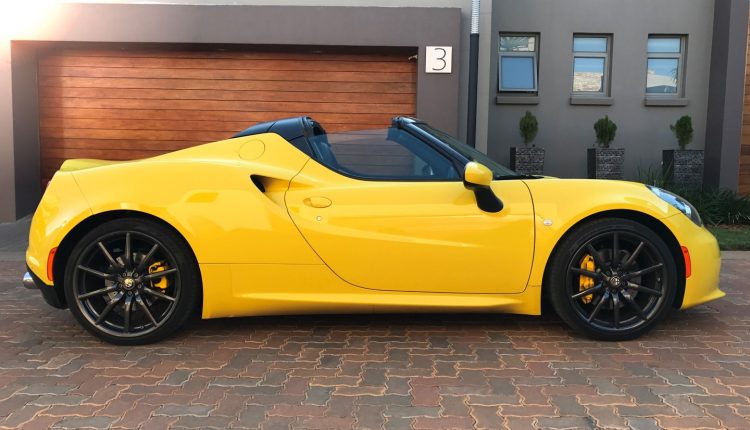 Exterior styling is fantastic and the proportions on the car really lend themselves to a mini-Ferrari. In fact a few people who had never seen the 4C Spider asked if it was a Ferrari. The interior of the car is a plethora of bare carbon and not much else. To save weight, they have installed the absolute bare minimum and in standard form you only get bi-xenon headlights, cupholders, air conditioning, Bluetooth and electric folding mirrors. The seats are very supportive and your seating position is low which gives you sense that you are driving something with performance. The quality of material is OK but once again this is due to weight cutting and giving you a raw driving experience. If you want to use your Bluetooth system for phone calls or even music, you need to drive rather gingerly in about 4th or 5th so you can hear the sound over the engine.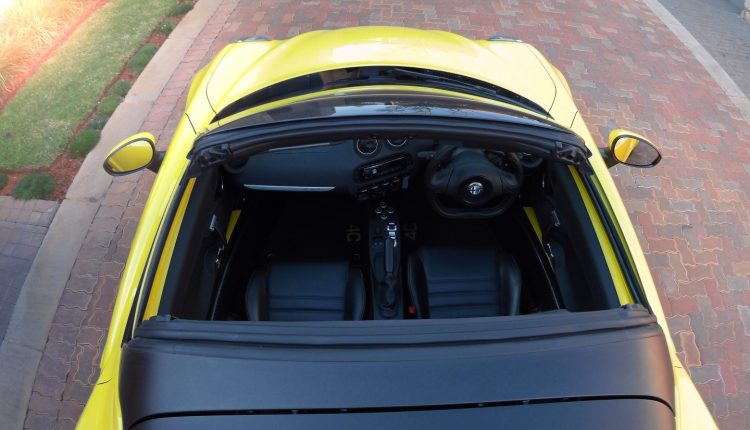 So what is the performance like? Well it boasts 177 kW and a  top speed of 258 km/h. A quick look reveals an all-aluminium design with 4 valves per cylinder, a new-generation turbocharger, ultra-high-pressure direct fuel injection and a dual-core intercooler that cools intake air before it reaches the turbocharger. 0 to 100 km/h pops up in just 4.1 seconds and thanks to large, cross-drilled, ventilated brakes takes it back to 0 in less than 30 metres. The gearbox in Automatic mode is not a desirable mode to be in. Left on its own, it bumps and stumbles a bit, so it's much better to pick your own gears, in which case it's responsive and puts a nice pop into up-shifts. The wastegate flutter gives you the sense that you are driving a Group B rally car which really adds to the occasion of the drop-top Italian sports car. Will you take the top off much? Probably not because it is a damn mission and it is more than loud enough with the roof on.
There is absolutely no denying that the 4C Spider is a fun car because everything about it screams toy. I was asked by plenty people if I would buy one and is it a daily driver? Well to be blunt yes I would buy one (if I had many other cars as well) and no it is most certainly not a daily driver. Getting in and out of the car at 30 years of age is a mission let alone someone who is slightly older and not as agile. The noise is a little unsociable at times and the ride is so harsh you feel like you shake for a few minutes after driving it. Does that mean I did not enjoy it? Absolutely not. For one week as a pure petrolhead I had an absolute ball. The base price of R1,340,990 is a little steep considering what you get and what you can get for that number but as I mentioned earlier if I had a dozen other cars at my disposal, this would be a very neat little addition to the garage.
PRO's
Sound (although no setting to make it less subtle when needed)
Exterior styling
Handling
CON's
Daily use
Interior quality lacking
Price