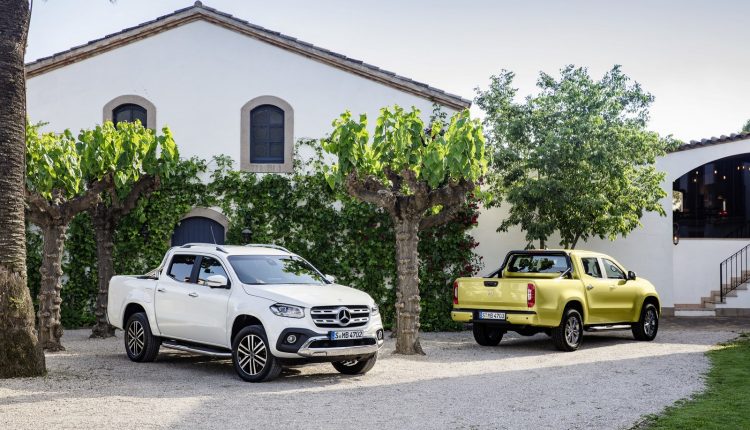 Last night the covers came off the first Mercedes-Benz pickup truck or bakkie as we call it and what you are looking at above and below are shots of the new X-Class.
It is being billed as the first pickup from a premium manufacturer and although it does  not look nearly as cool as the Concept we saw a while back, it will most certainly sell well in the targeted markets (South Africa being one of them).
Three different configurations will be offered including a work-focused X-Class Pure, a consumer-grade X-Class Progressive, and a lifestyle variant dubbed the X-Class Power.
All models come with a practical bed (standard with cargo lighting)
Rear bumper has integrated step which can be removed for 180 degree tailgate opening
Entry-level models comes with fabric interior (leather can be spec'd)
X 220 d – 2.3-litre turbo-diesel 160 hp (120 kW)
X 250 d will have a biturbo-diesel developing 187 hp (140 kW)
X 200 and an X 350 d with a V6 engine producing 255 hp (190 kW) in the plans
You can choose between six-speed manual or a seven-speed automatic transmission
Rear-wheel drive will be standard but all-wheel drive will also be available
Payload capacity is 1.2 tons and towing capacity is 3.5 tons
X-Class standard ground clearance is 202mm but can be increased by 20mm with optional suspension
The X-Class will go on sale in Europe this November and German pricing starts at €37,294.
X-Class Power
X-Class Progressive
X-Class Pure