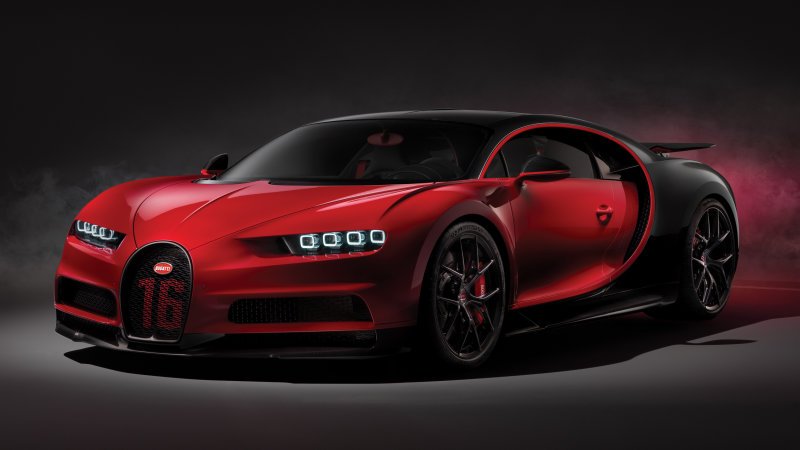 Thanks to a small slip by the Bugatti website team yesterday we knew the manufacturer was going to be unveiling a new Chiron variant and now we have the official reveal and information for you on the Chiron Sport.
Sadly the changes do not include a bump in power but rather the handling of the car has been drastically improved.
To start, the car is 18 kg lighter compared to the regular Chiron but with stiffer shocks and chassis and dynamic torque vectoring, the Chiron-Sport is better equipped to attack tracks.
How did it lose the weight? This was done with lighter wheels, glass and more carbon components. Bugatti seems to be most proud of the car's carbon fiber windshield wipers, which Bugatti claims is a first for production cars. They are actually fairly impressive, weighing 77 percent less than the standard ones.
Bugatti claims the Chiron Sport lapped the Nardo handling track 5 seconds faster than the standard model.
Visual changes include a limited selection of colors for the front end including red, blue, silver and dark grey. These are coupled with an exposed carbon finish for the tail of the car. The front color is then carried over to the big "C" design element that is finished in aluminum on normal Chirons, and to other elements such as the bottom of the rear wing and the contrasting "16" in the grille mesh. The wheels are unique to the Sport, as are the quartet of round exhaust outlets. The interior is made darker and more serious thanks to a liberal use of black anodized aluminum switchgear, and black leather and Alcantara.
So you want an even more hardcore Bugatti Chiron? Well then you will need to part with $3.26 million to add the Chiron Sport to your garage.