Calvin Luk is the man behind the design of the all-new BMW X3 and his latest creation in M40i guise is quite possibly the best looking SUV on the market today. He views the G01 X3 as a rugby player dressed in a fitted suit and as you will read below this is quite the accurate description.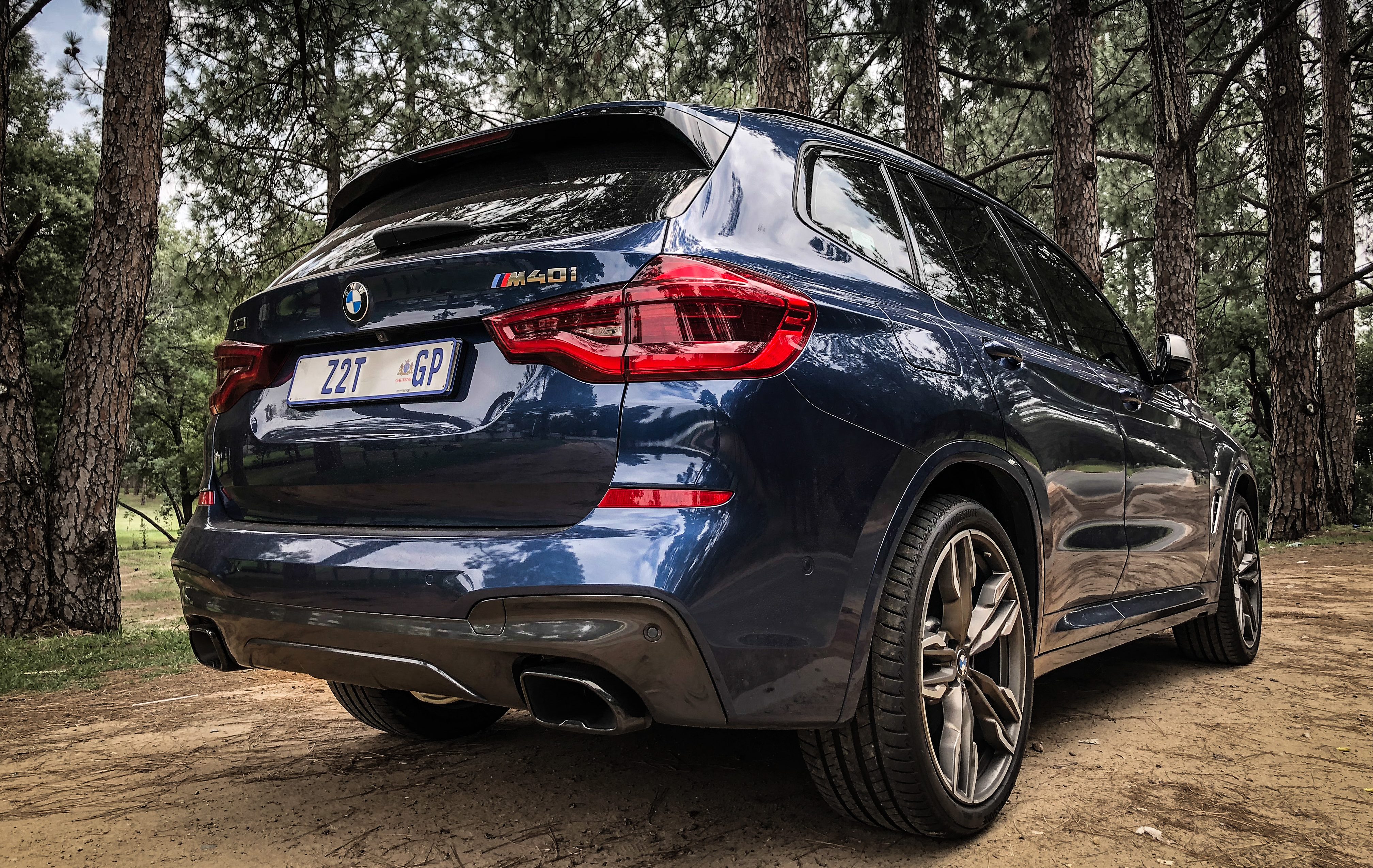 The proportions of the car are bang on. The profile and the rear are brilliantly sculpted and it certainly catches your eye in Phytonic Blue Metallic. Among it's competitors such as the Mercedes-AMG GLC 43 and Audi SQ5, there is no denying that the Beemer is the most dynamic looking. BMW's signature grille is a tad more pronounced, the roof line is that much more swept and the bonnet creases are much more present. In the first ever M Performance X3, it's a package granted by even more presence thanks to bespoke bumper treatments, neat Cerium Grey highlighting, tailpipe dimension upgrade and striking alloy wheels (R21,100 for the set on this unit).
The BMW X3 M40i packs a turbocharged (single twin-scroll) 3.0 litre inline-six engine, making 265 kW (355 hp) and 500 Nm of torque which is mated to an eight-speed automatic gearbox and thanks to the brilliance of xDrive and a sportier suspension setup, you can plant your foot flat without a hint of things getting loose. It also gets sharper steering, better brakes and stickier tires. So everything about the X3 M40i is turned up a notch over the standard car to make it seem sportier and it has achieved this to a tee.
Sprinting to 100 km/h is achieved in 4.8 seconds which is substantially quicker than the competitor from Audi (5.4 seconds) and one tenth of a second quicker than the offering from AMG (GLC 43). So now that you have a very fast mid-size SUV, how does it handle?
The X3 M40i is very quiet inside and there is little in the way of tyre or wind noise but the most important part, the engine, is always audible. As mentioned, it finds great traction off the line and the body's pitch is well contained, so very little forward momentum is wasted by the rear end squatting and the nose raising. That same control is felt in the corners, too. Roll is minimal even when you enter corners at a respectable pace, which you can do as there's impressive turn in grip and the chassis responds dutifully to some fast and direct steering. One of the only negative's about this dynamic SUV is the reluctance to downshift when coming into a corner. It doesn't change down quick enough which means most of the time you enter into the bend in a gear higher than you would desire. On the flipside, the upshifts are blisteringly fast and the 265 kW ensures you are pressed well back into your seat while accelerating.
One of the best features on this car (at least for my petrol head brain and heart) is the noise that pops out those two large tailpipes when in Sport Plus mode. I feel you would either love it and find yourself actually laughing at the brialliance or you will think it's very unsuitable depending on how you view a performance SUV. I am most certainly the former and I could not get enough of the burble, pop and bang from gently accelerating and letting go the throttle (watch the video below and you will understand exactly what I mean). Although this is a rapid machine, if you hold your foot flat you will ultimately reach a limited 250 km/h, it ultimately rewards your ears more if you drive it much slower than what it was built for.
The build quality (as always with BMW) is right out of the top draw. Everything feels solid and to a degree expensive. To be honest, you can hardly even compare the interior from the previous X3 to this because it has been executed so well. Fit, finish, and material specifications throughout are high quality and attractive, and BMW's latest iDrive system both looks good and functions well. The parking system (Parking Assist Plus) is easily the best system I have ever had the pleasure of using and with all the camera's and clever CGI trickery, you are guaranteed to park this creation perfectly every single time.
So this family-friendly SUV packs the heart of a hot hatch and it is an immensely well balanced vehicle so would it be a good purchase? This is honestly one of the best car's I have driven in a long time and it would be a welcome addition to someone looking for something with a lot of punch and noise yet refinement and comfort for long distance family trips.
How much will this package set you back? Base price is R991,100 but if you add some nice to haves and a few must have options, then the price climbs quickly. This test car had most of the bells and whistles and it would set you back R1,172,825. Expensive? Well yes it is but all cars of this calbre are expensive these days and I feel this price tag is somewhat justified for a terrific machine.
PRO's
Exhaust noise!!!
Styling
Build quality and balance
CON's
Gearbox reluctant on downshift