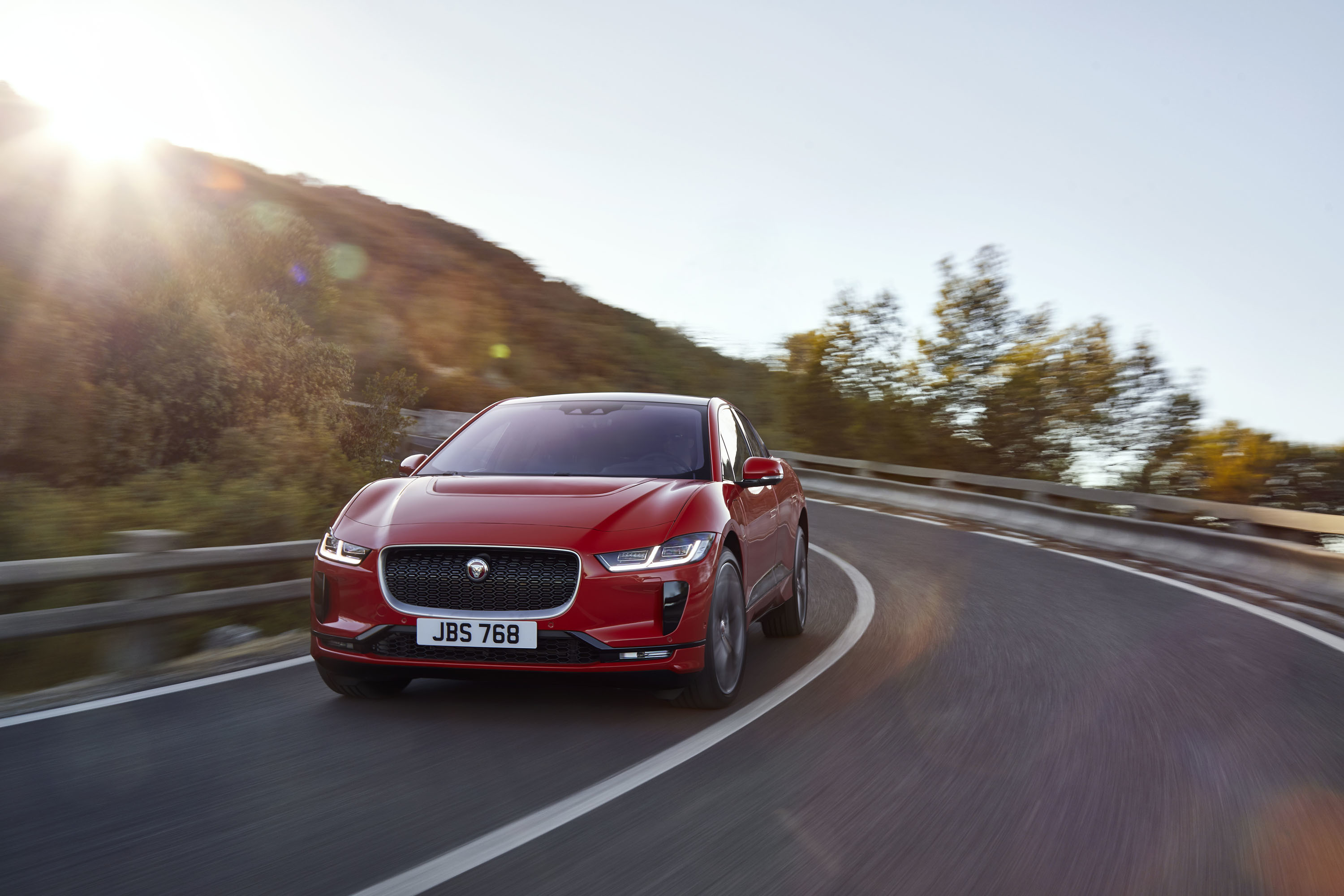 Many people are not sure where they sit on the whole electric-motoring zero-emission thing but this is a historical moment for Jaguar as the I-PACE is their first ever all-electric car.
The car sits on a bespoke aluminium architecture which is claimed as Jaguar's most rigid. There's an electric motor on each axle providing four-wheel drive and a maximum output of 394 hp (294 kW) and 696 Nm of torque – considerably more than is afforded the most powerful F-Pace. Scroll down to watch it take on the Tesla Model X.
This translates into a 0 to 100 km/h time of 4.8 seconds and a top speed of 200 km/h. So what is the range like in this new creation? The good news here is that, according to Jaguar, the I-PACE's 90kWh lithium-ion battery, stashed between the axles in 432 'pouch' cells, is capable of delivering up to 480 km of usable range – and will charge by 80 per cent after 45 minutes*.
Its sleek, coupe-like silhouette is influenced by the Jaguar C-X75 supercar concept, with a short, low bonnet, aero-enhanced roof design and curved rear screen. To optimise the balance between cooling and aerodynamics, Active Vanes in the grille open when cooling is required, but close when not needed to redirect air through the integral bonnet scoop, smoothing airflow.
Inside the I-PACE features the Touch Pro Duo infotainment system like the one in the Range Rover Velar and you also get 'Smart Settings' technology which is driven by AI algorithms to identify individual driver preferences, and then tailors the I-PACE's driving and interior settings accordingly.
Just like Tesla, the I-PACE will do wireless over-the-air updates to ensure that the customers always have the latest software available and keeping on the topic of customers, you will have peace of mind knowing about your eight-year battery warranty** and 34 000km / two-year service intervals.
We can expect to see the new all-electric five-seat SUV to arrive in South Africa from 2019.
*Based on 100kW DC fast-charger
**8-year battery warranty limited to 160,000km and 70% state of health