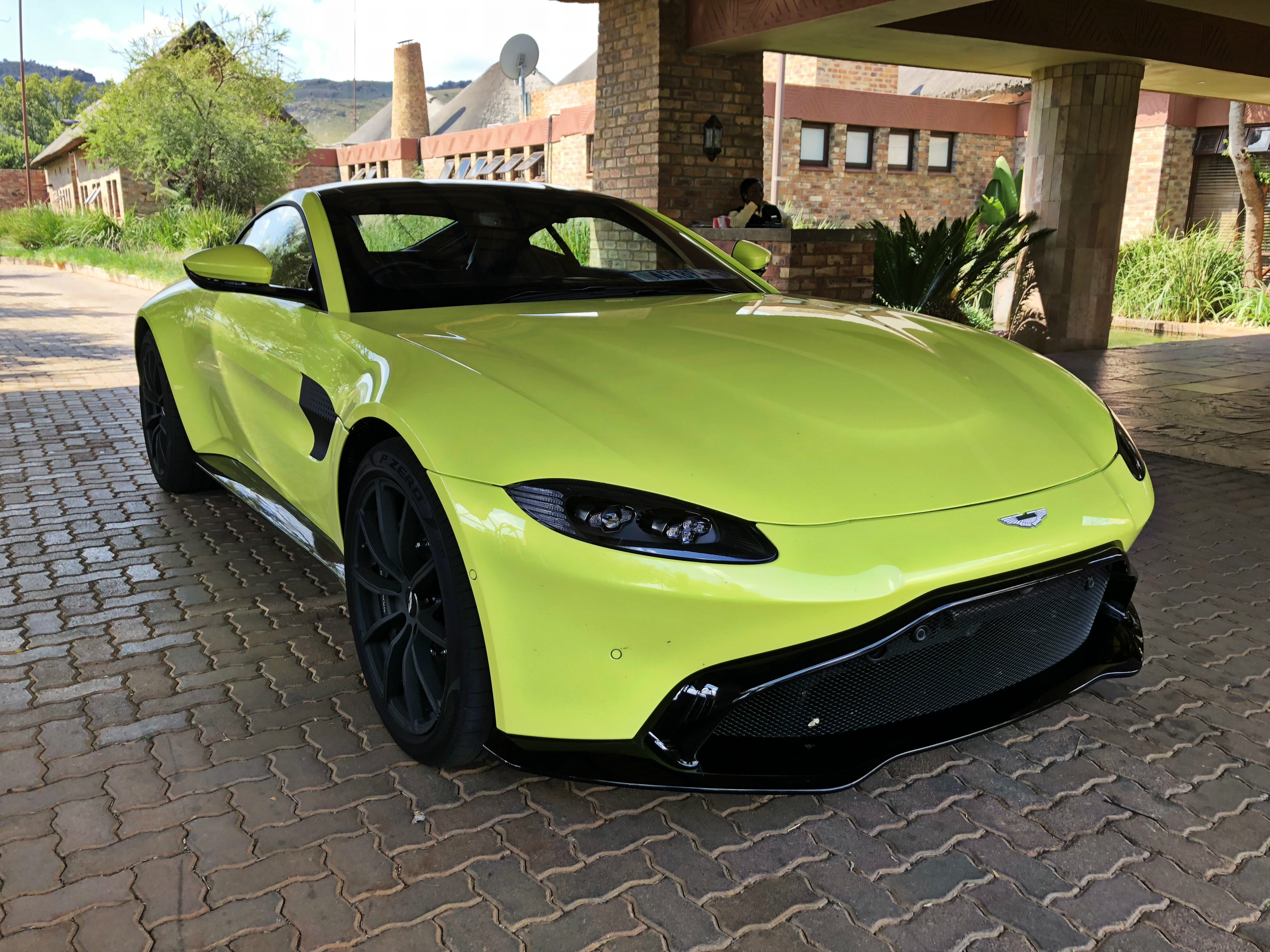 A few weeks back I was lucky enough to be invited to drive the all-new Aston Martin Vantage but had to keep my mouth shut until today.
We spend about 20 minutes behind the wheel so it's not a full review but thanks to some driver friendly roads out in the Cradle of Humankind, I got to see what the Porsche 911 fighter from the British manufacturer was all about.
From a styling point of view the feedback seems to be very contrasting. Some people love it, some people dislike it a lot but I can safely say after inspecting it in the metal I am very much in the former category. It has little (if anything) in common with its predecessor which was the intention from the outset. Aston CEO, Andy Palmer, made it clear that each new model would have a distinctive design, albeit tied together with brand-wide themes. The car is very well proportioned and thanks to the short overhangs (front and rear) bumps and ramps (there are plenty in SA) are absolutely nothing to worry about. At the front there is a big gaping mouth giving off a serious predator vibe and at the back you get a very prominent diffuser which looks more fitting for a race car than a comfortable road car.
Inside the changes are fairly drastic too thanks to plenty new technology and even some hardware from Mercedes but the similarities between this and the DB11 are slim. There is a new seat design which places the driver lower in the car and enables taller drivers to get properly comfortable. The steering wheel design is more aggressively-shaped and is a pleasure to grip.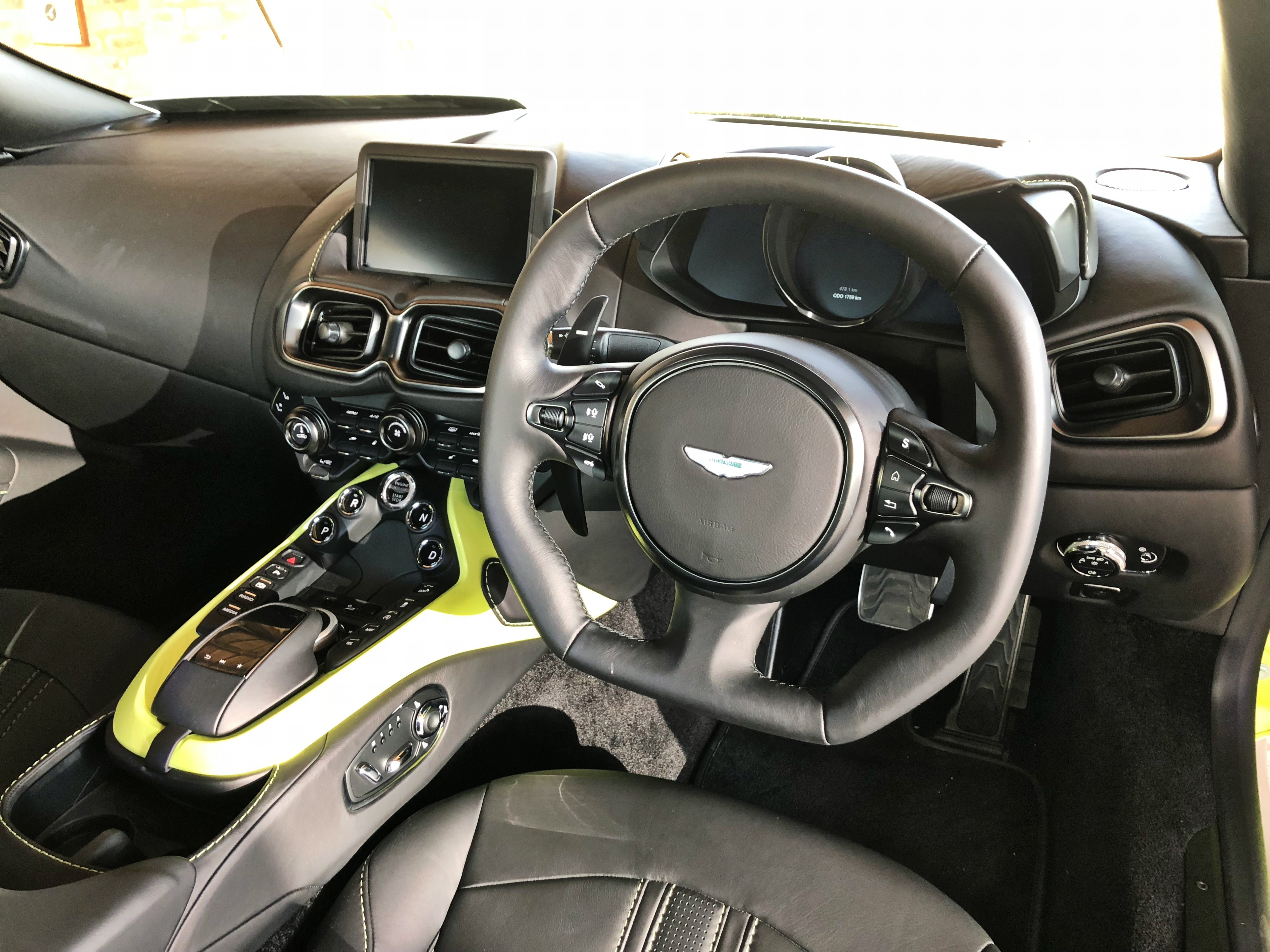 The new Vantage is the second Aston to use the Mercedes-AMG sourced 4.0-litre twin-turbo V8 and with a power output of 503 horses and 685 Nm of torque you are not short of grunt. Firing the car to life and you will instantly notice a louder angrier tone from idle when comparing it to the V8 DB11. There is an optional sports exhaust (quad pipes) which will make this even more enticing and could even make it the most aggressive sounding car to use this power plant (apart from the AMG GT R). The exhaust is definitely not as intense as some of the AMG's as the company chose to produce a different type of sound which takes away some of the pops and bangs from the hardcore AMG models.
Is it fast? Well of course it is fast it has 375 kW on tap and more low-down grunt than you can ever need. It really comes to life when you stretch its legs though. Drama is a plenty when burying the loud pedal and even though it is turbocharged, there is still very strong pull over the last couple of thousand revs. The new Vantage is fitted with the eight-speed ZF auto box which seems to be perfect choice. It is rather refined under gentle play but swaps cogs almost as fast as a double-clutch. Shifting the drive mode into Sports Plus or Track and you get a lovely little shunt in the back too.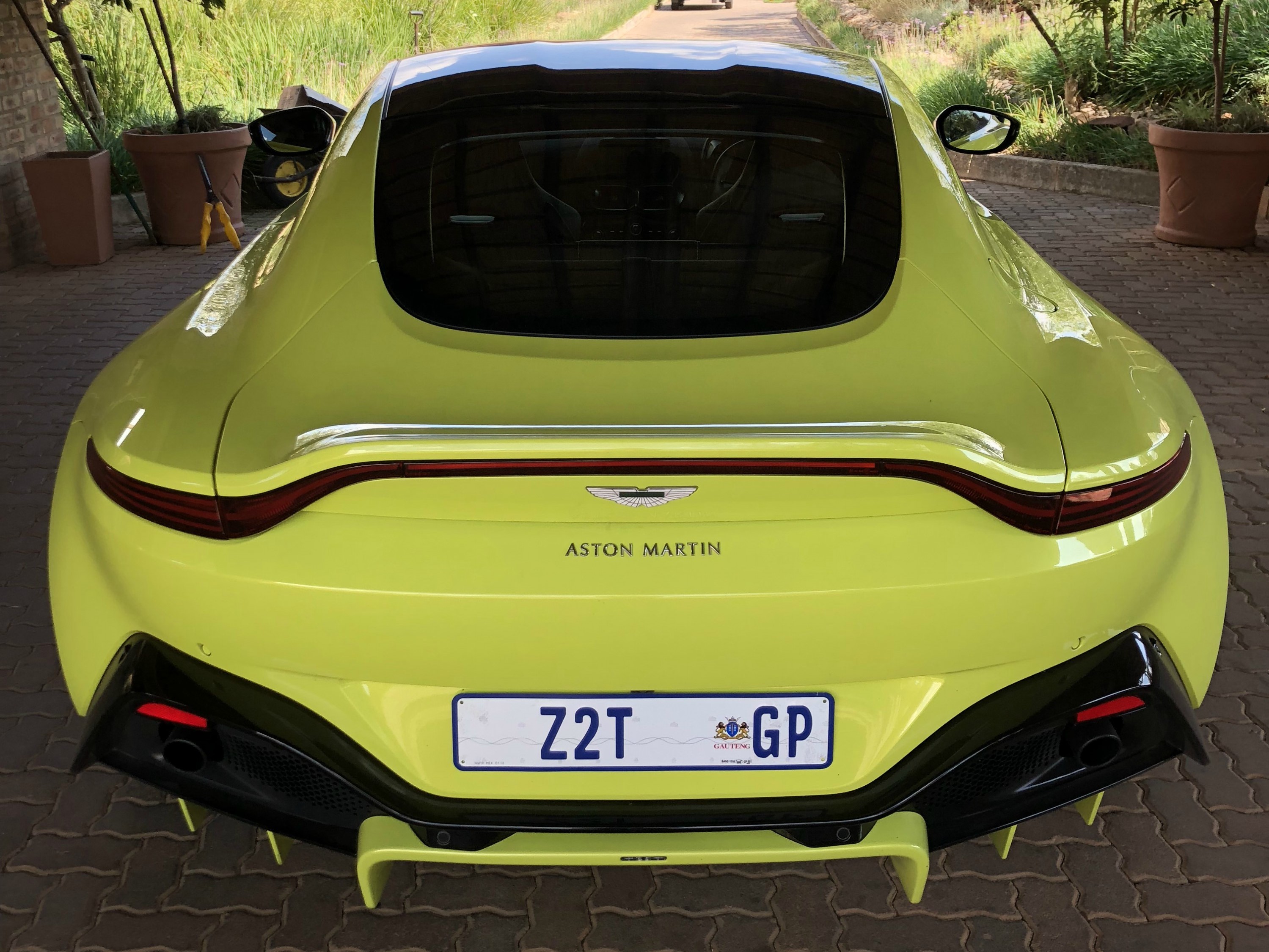 The chassis is definitely something to write home about and the adaptive dampers work in perfect harmony to give you the most ideal ride depending what mode you are in. There is no comfort mode only the base Sport setting but if you are buying an Aston Martin Vantage, you are not looking for cloud like comfort anyway. This is a sports car and it rides like a sports car. Hit some twisty roads like we did and the steering feedback sparks to life. There is a lot of front-end grip and thanks to the very clever electronic differential these corners are made into very light work for the Vantage.
So should you buy one? Well it is ultimately up to the buyer and their preference in terms of brand but with a starting price of R2,800,000 you can bet there will be plenty excited Aston buyers (many first time Aston owners to be) getting ready to place their order. For those more fond of a traditional manual gearbox, be patient as that variant will be coming further down the line.
It's a pure sports car whose dreamy beauty is matched by its German brawn and we would happily add one to the garage if it was an option.
PS: The launch colour known as Lime Essence is sensational in person!