Ford is making big things happen right now with its latest line of trucks. While there's a lot for truck lovers to take, one of the most exciting developments is the new 2018 F-150 raptor.  Ford touts this edition as "the toughest, smartest, and most capable Raptor ever." If you are interested in learning more about this unparalleled driving experience, keep on reading below: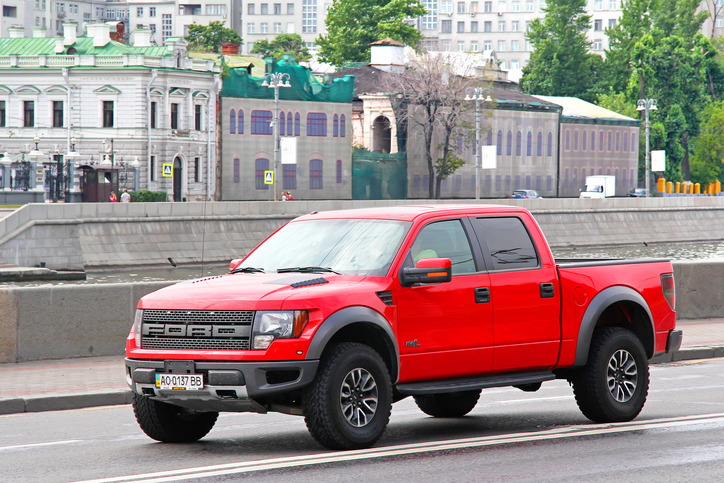 The first thing that caught our eye is how easily this ride sails down the road. Indeed,  the odometer quickly rose without us even noticing. Despite its size, this chunky rig has the ability to float on the highway, quietly and serenely. With 34-inch-tall BFGoodrich rubber tires, this truck has stability but manages to still maintain a lightweight feel as it glides down roadways.
The tires come in at a full thread depth, showing us that the BFG All-Terrain T/A KO2 is a fantastic winter tire. Maintaining its grip, even on hard-packed snow, these tires don't fear winter. Digging in and taking command of the snow, your truck has nothing stopping it.
The new F-150 comes with 3.0-inch Fox shocks, adding a base valve piston which enables lower gas pressure to create an improved driving experience on the highway. These shocks are bigger than the original 2.5-inches, giving 44 percent more volume for increased heat dissipation and fade resistance. Whether you're tearing through the desert, gliding on the snow, or roaring through forests, the new Ford can handle it all.
Now for the part that we really love. Winter car warm ups are literally a thing of the past, with the F150's remote-start function. Now you can pre-warm your ride, making getting anywhere in the winter more pleasure than work.
The pickup on this pickup is off the charts, especially given its bulk. Going from 0 to 60 in just 5.3 seconds, this 5700-pound beast mimics the acceleration of nimble sports cars. With a horsepower of 450 and 510 lb-ft of torque, it's impossible not to want to gun the engine at every opportunity.
When it comes to luxury, the Raptor doesn't disappoint. Despite being a F150, this ride can show up many luxury scale cars. With automatic keyless entry, heated and cooled front seats, leather upholstery and advanced infotainment system, being a passenger is almost as fun as driving it.
But then there's the advanced features that make driving even more of a pleasure, with adaptive cruise control, forward-collision prevention, and a blind spot monitor that can extend to trailers, 360-degree camera system, and an off-road system that can tell you exactly at what angle your steering wheels are pointing.
The price is something noteworthy. For all this luxury, smooth sailing, and souped up mechanical function, the Raptor comes in at a very affordable cost. Compared to many other similar trucks or even luxury cars, here you're getting the best of both, for a wallet-friendly cost.
While we are busy drooling over this mega monster, there are some things that could be better. The interior game could be stepped up, seeing as the dash, the tops of doors, and door panels are all made with plastic. For a higher-end model, the materials could be better.
This car is literally a beast. While it's amazing for rough terrain, rural roads, and suburban driving, this is definitely not much of a city car. It's 83-inch width makes it quite hefty, proving that trips into the city won't be made easy. Also, beware when parking, parallel or otherwise.
The mileage isn't exactly anything to write home about. With an EcoBoost engine, there's not much Eco happening. The Raptor is EPA rated, coming in at 15 mpg for city driving, and 18 on the highway. You'll definitely be paying for all the power you use.
Overall, this release is one to watch out for. Take over the road with killer tires, a pre-warmed car, and a luxury trucking experience like no other.