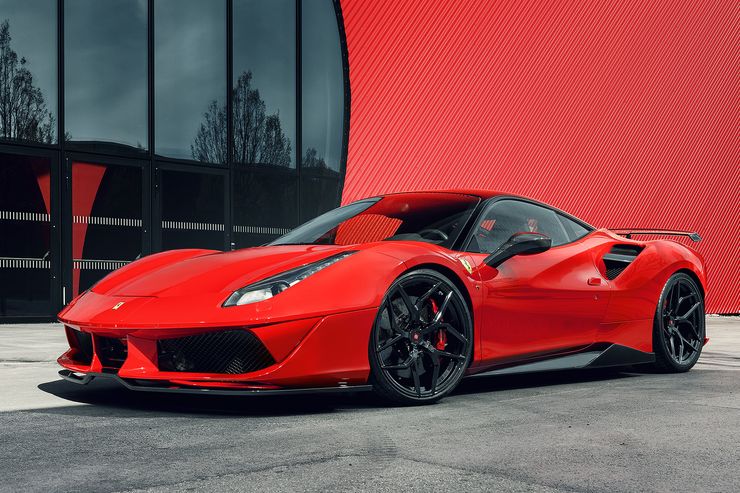 Due to be revealed today at the Top Marques, the Pogea Racing Ferrari 488 GTB press photo's have hit the web.
It is called the FPlus Corsa and as you can see they have drastically altered the appearance of the twin-turbo prancing horse with an aggressive new bodykit. It looks a little like a mixture between the Novitec offering and the new 488 Pista and we think it looks rather good. These elements are made out of carbon fibre and include a new front and rear apron, active diffuser, side wings, side skirts and a prominent rear wing. You also get different air intakes and some carbon fibre mirrors to wrap up the package.
This kit reduces the weight of the car by 48 kg but they also gave the 3.9-litre twin-turbo V8 a healthy boost up to 820 hp (611 kW) and 900 Nm of torque. This was achieved thanks to a new engine control system, a modified intake air guide and a valve exhaust system made of stainless steel.
Thanks to the increase in output, the 0 to 100 km/h sprint takes just 2.8 seconds and will run all the way until 345 km/h. The FPlus Corsa gets specially adapted tyres wrapped around some very large 21-inch forged wheels.
Overall, Pogea wants to produce only 20 copies of the FPlus Corsa. Four of them are reserved for the European market, eight for North America and another eight  for markets in Asia. Prices were not mentioned but you can bet this will be an astronomical figure.