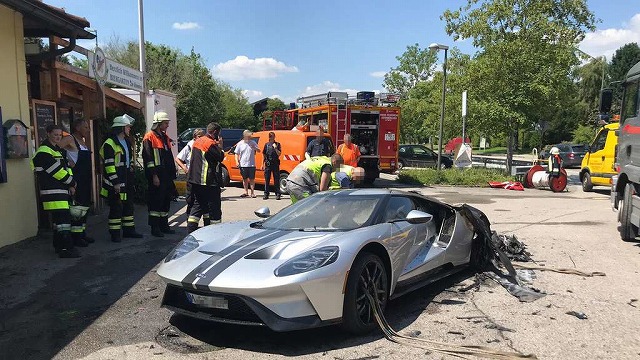 This Ford GT will be making it's way to a scrapheap in Germany after it caught fire recently and burnt to a crisp.
The blue Oval supercar was destroyed by the flames over in Munich, in an incident that took place on Saturday, around 1 PM local time.
The circumstances that led to the fire are unknown, with the rumor mill talking about a faulty fuel pressure valve. Regardless, the flames seemed to have consumed the rear section of the vehicle, even touching a part of the passenger cell.
German media reports that the 52-year-old driver and his son were able to get out of the vehicle with no harm but by the time emergency responders were able to extinguish the fire, it was too late for the vehicle to be saved.
Making things even worse is the fact that the car had just 43 miles on the clock (70 km) so the owner did not even really get to enjoy it much.
Let's hope this is not a trend for the new Ford GT and that insurance covers this owners losses.