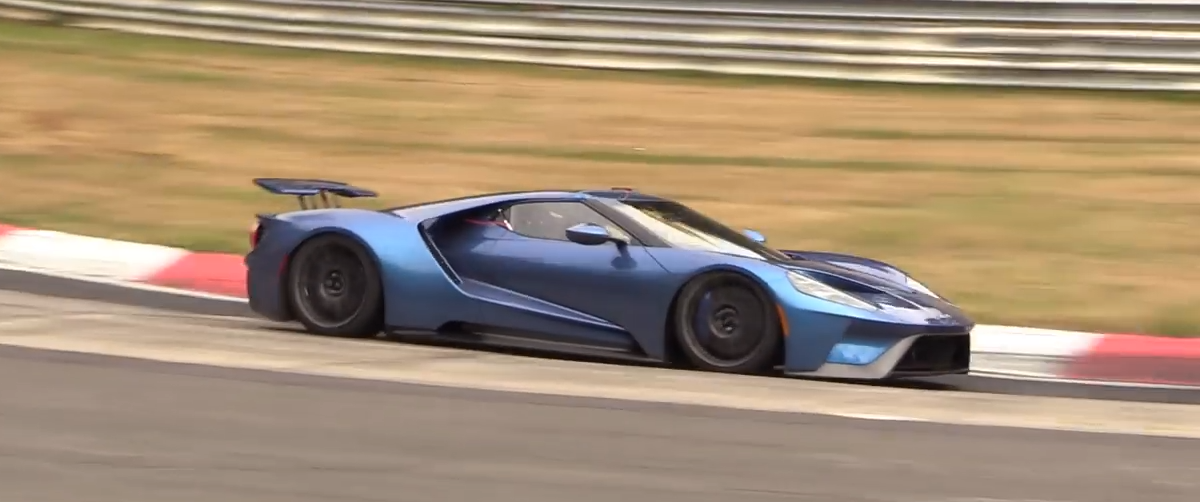 There has been a recent video blowing up on YouTube of a Ford GT being taken to its limits around the infamous Nordschleife but what's more interesting is that the common suspicion seems to be that the American manufacturer might be trying its hand at the Nurburgring lap times with its latest 647 hp (482 kW) supercar.
Yes, the video could've been of a random Ford GT being lapped by a private owner, but the car in question wears the U.K number plate "GT17 FOE". This means that this GT is the same car Ford showcased in several motoring shows such as the Goodwood Festival of Speed. Furthermore, this is the same licence plate that appeared on the second season of The Grand Tour where Jeremy Clarkson was driving a blue Ford GT. As the plate perceptibly abbreviates "GT 2017 Ford of Europe", this particular car is quite evidently factory-owned.
It is no secret that there is a tug of war surrounding the Nurburgring production car lap record. Not so long ago the Lamborghini Huracan Performante claimed the fastest lap time before Porsche took its crown with the GT2 RS, and recently Lamborghini took back the title with the upcoming Aventador SVJ. If Ford really is looking to set a new record on the notoriously long circuit, it would make things even more exciting.
With the Lamborghini Aventador SVJ boasting a power output of 759 hp (566 kW) going on all four wheels, the 647 hp (482 kW) rear-wheel drive Ford GT will have to punch well above its expectations to beat the 6 minute 44.97 second current lap record.
TheDrive reached out to Ford Performance asking about a record run to which they simply responded, "We test many vehicles around the world but do not discuss details."