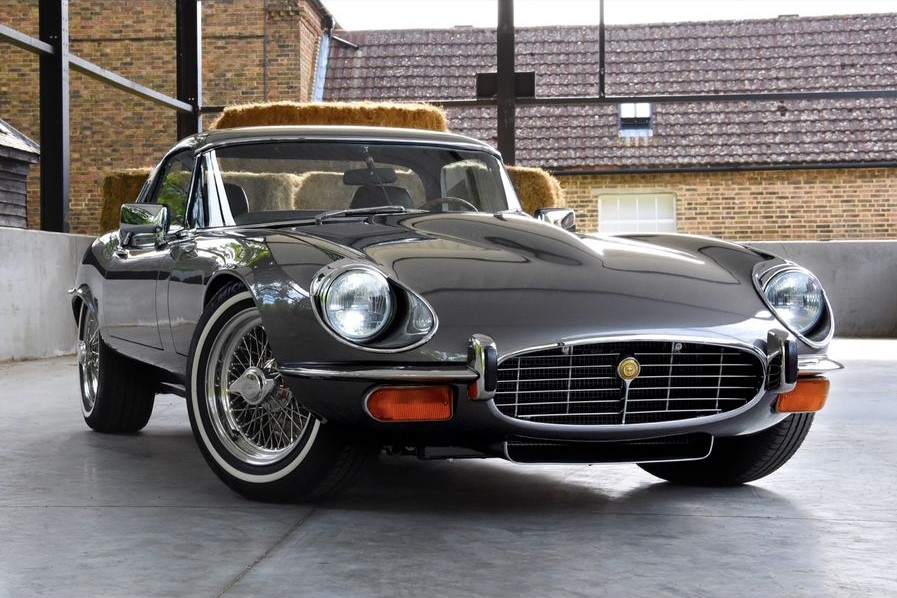 What you see above and below is a one-off Jaguar E-Type which could be the highest-spec Series III ever made thanks to it's 284 bhp (288hp, 212 kW) V12.
E-type UK has undertaken the restoration for an overseas customer and as a result produces 284 bhp and a 6.1-litre fuel-injected V12.
Numerous other details and additions have been made which according to the company responsible for the makeover took over 3000 man hours to complete.
Originally the V12 in a Series 3 displaced 5.3-litre but E-Type UK increased to 6.1 litres, enabling it to push out more power through the rear wheels. The audio is improved, too, with custom-made velocity stacks and a 12-branch stainless-steel exhaust system that enhances the sound.
The Jag's inner sills have been strengthened, bespoke extended louvres have been added to the bonnet and additional air ducting has been created. Adjustable suspension with sports torsion bars are on all four corners, and there are four-pot AP Racing brakes with grooved vented discs at the front.
An aerospace-grade aluminium five-speed gearbox replaces the original unit, with internal ratios chosen to complement the new power band at play. Even the wheels have been completely upgraded.
The modifications to the car's interior are to give a classy feel and as you can see in the shots it has been pulled off brilliantly. The seat bases have been lowered to boost the driving position, and a heating option makes winter drives more comfortable and complements the air-conditioning.
LED lighting has been added throughout the car as a safety feature as much as a style one, with the interior benefiting from custom footwell and boot lighting. With a full external light conversion to LEDs, this E-type is a stunning combination of what made the original great and what modern technology can bring to a classic today.
If only we could get our hands on that glowing red start button on the dashboard.