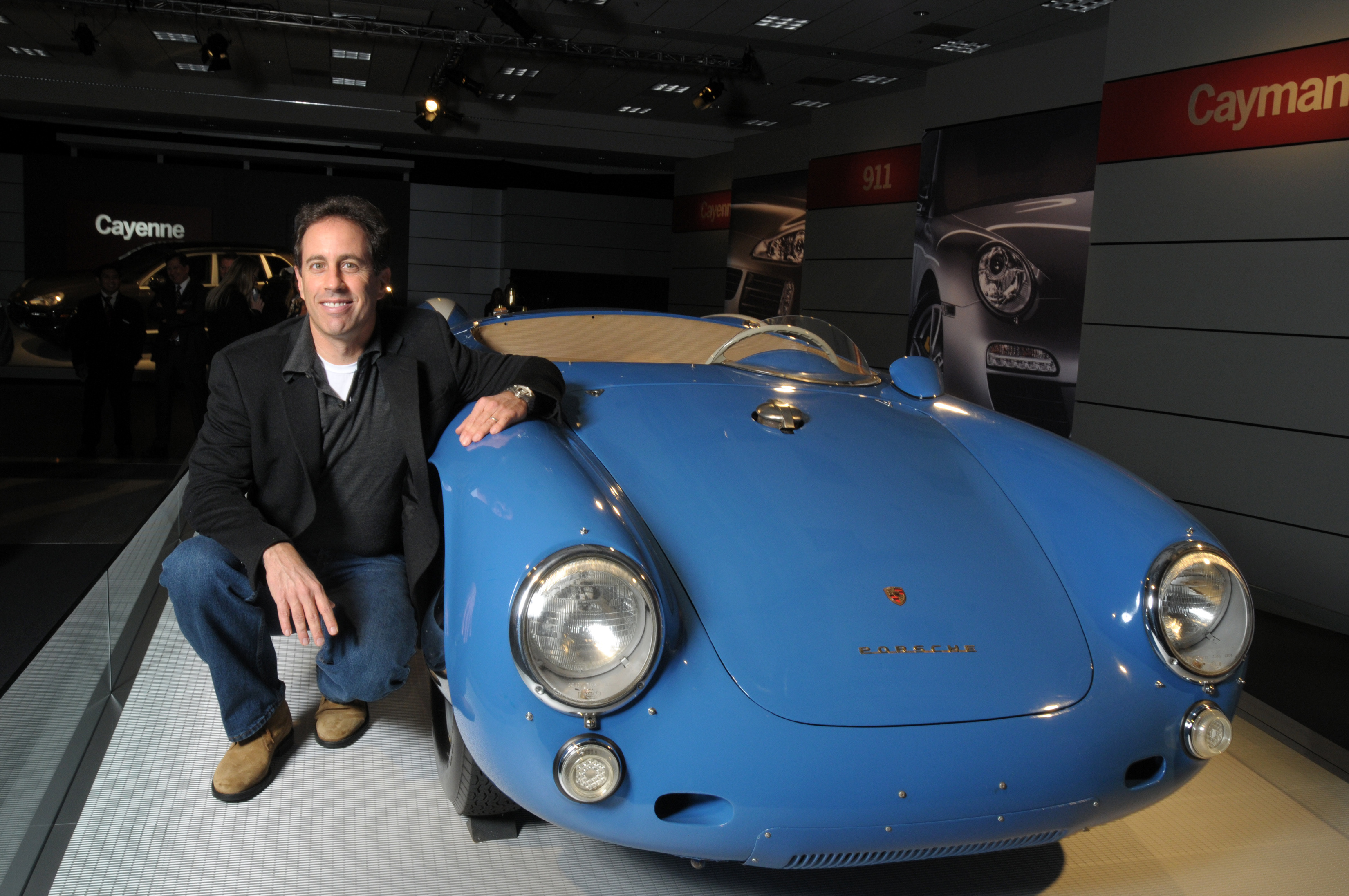 It's no secret that comedian Jerry Seinfeld is a car lover, as evidenced by his new Netflix show Comedians in Cars Getting Coffee. At one point in time, Seinfeld owned a collection of 46 Porsche models from various points of time in the company's history. While that collection is enough to make anyone jealous, here's a peek at some of the most expensive cars to ever grace his collection.
1955 Porsche 550 RS – $3 million
Seinfeld's most expensive Porsche (seen above) is the 1955 Porsche 550 RS, of which only 70 were made that year. It's the same car model that actor James Dean was killed in while driving in 1955. The top speed of this model is 140 miles per hour, and it looks a bit like a tube. No surprise that this is the most valuable car in his collection, considering its history and association with the death of James Dean.
1973 Porsche 911 Carrera RSR – $1.4 million
Only 49 models of the 1973 Porsche 911 Carrera RS were produced, making it one of the rarest cars in Seinfeld's collection. He loves it so much he used it in Seth Meyer's episode of Comedians in Cars Getting Coffee, stating he views it as the best Porsche 911 ever made. That's high praise coming from a car fanatic like Seinfeld. In 2014 a BMW sedan accidentally backed into this car, causing an accident, while trying to parallel park. Jerry watched the entire situation occur and the driver was unapologetic, simply stating "I didn't see it". You can believe the driver will be looking for the best auto insurance rates after that premium will likely skyrocket!
1949 Porsche 356/2 – $700,000
Only 50 of these cars were built between 1949 and 1950 and Seinfeld happens to own number 40 of that production run. Only 30 of the cars are believed to be in existence. It's an all-aluminum car that was hand built in Austria. Seinfeld's car was recently used to perfect aerodynamics for 356 L racers at the LeMans car race.
1986 Porsche 959 – $700,000
This 1986 Porsche 959 was considered one of the first supercars and Seinfeld is rumored to have paid around $700,000 for it. Only 337 of the cars were built, and at the time of its production, it was the fastest street-legal car on the road. It is capable of 195 miles per hour and is powered by a twin-turbo six-cylinder engine.
1964 Porsche 911 – $400,000
Perhaps Seinfeld's most famous car purchase, this one set him back $400,000 in 1996. However, Seinfeld sent the car to Germany to the original Porsche works factory for more than $250,000 in restorations. What's even more interesting about this car is that Seinfeld purchased it from Ferry Porsche, the son of the founder of the company and the man who designed and engineered this exact car. Only 232 of these babies were manufactured, and it's estimated that only 48 have survived until today. Its top speed is around 130 miles per hour.