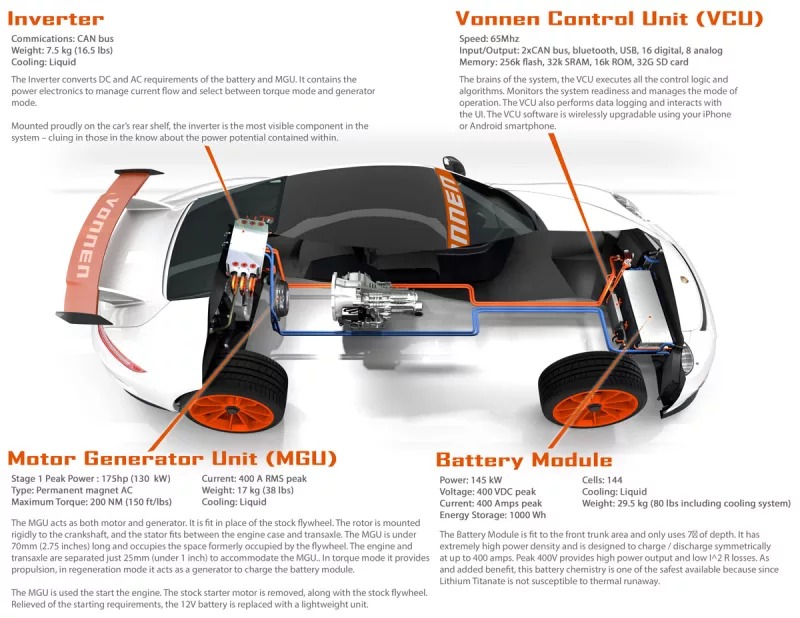 Nestled in the vendor area at the Rennsport Reunion VI at Laguna Seca last weekend sat Vonnen Performance showing off their new aftermarket add-on performance hybrid modules for 991 and 981-generation Porsche models.
They replace the stock flywheel and starter with a 175 hp (130 kW) flywheel electric motor for substantial output gains with no affect on the engine emissions. According to the technical information provided, the extra boost in power comes with a minimal weight penalty, like under 100 kg minimal. Crucially, the electric motor is only 17 kg, and the battery stack is just 36 kg.
With a small battery pack, the extra power can only arrive in short bursts so don't expect to putter to work on full electric power.
For the full base system, you are looking at parting with a whopping $75,000 (tad over R1 million) which is more than the cost of some of the models you can fit it to. Vonnen says their current system is compatible with all 2012-2016 Porsche 911 (including Turbo and GT3), Cayman, and Boxster models.
Allegedly they also have a 350 hp (260 kW) "Stage 2" hybrid in the works.