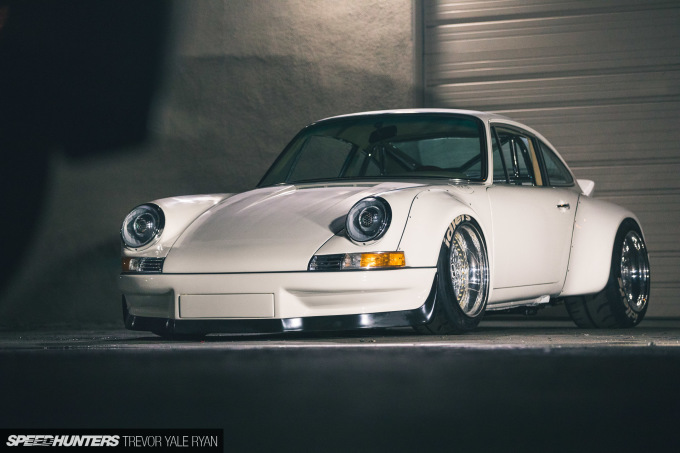 While hardcore enthusiasts may ridicule the whole idea, reality is that the beloved Porsche 911 will eventually trade its flat-six engine for an all-electric powertrain. Although we might have to wait as long as a decade for this switch, American tuner Streetfighter LA has given us a glimpse of the future with this project.
It is a 1977 Porsche 911 and what gives this build significance is that the tuner has ditched its original flat-six engine for a more futuristic all-electric powertrain from Tesla. The classic 911 was showcased at the SEMA show in Las Vegas where it graced the Toyo stand with its unique blend of old-school styling and ultramodern ingenuity.
The idea of fitting an electric powertrain in a car from the 1970s may sound pushy, but interestingly, the installation proved to be quite feasible as not much body or chassis modifications were required. Engineers were able to use most of the original mounting holes to fit the electric motor which produces a whopping 700 hp (522 kW). We are curious to know about the wonders this new powertrain generates, but sadly no performance figures have been released, as with the details of its battery pack.
Purists may scoff at the idea of electrifying a Porsche 911, let alone a 1977 model. But the styling is indisputably striking. The 911 has been given an aggressively widebody kit with bolt-on fenders front and rear, it's also been fitted with a modern adjustable suspension. The bodywork sports a gloss white body paint which further helps the car stand out, especially with the set of BBS wheels featured.
The cabin is just as stunning as the rest of the car. It hosts a blend of leather, Alcantara, and chrome throughout. Lastly, perhaps as compensation to traditionalists, the car has been fitted with a roll cage suggesting this is a purist 911.