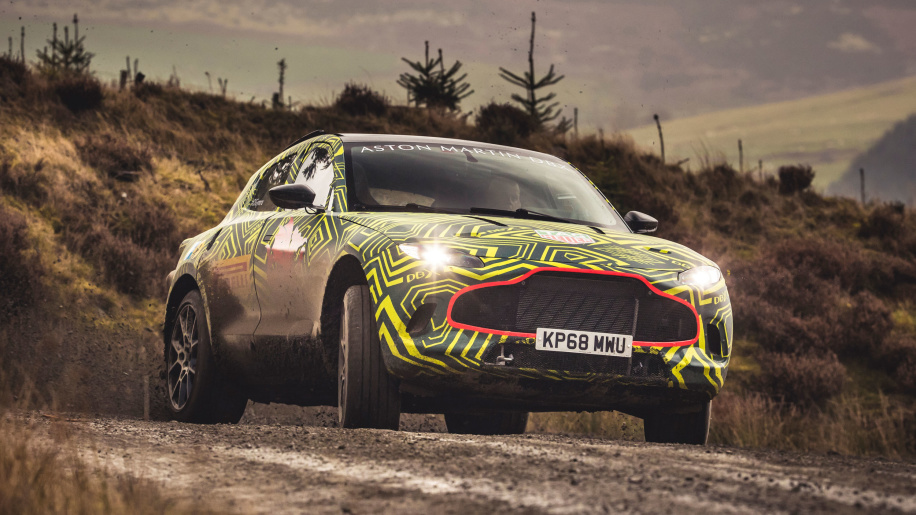 With Aston Martin's first ever SUV named DBX eagerly anticipated, the automaker has been dropping hints of its new model and the message is getting clearer by the day – the new kid on the block is looking to triumph on any terrain it finds itself in.
Set to be revealed in the last quarter of 2019, the Aston Martin DBX SUV will be built in the marque's new plant in St. Athan, UK. Unfortunately this is pretty much all we know of the new model. The upshot is however that there has been a prototype spotted, giving us a glimpse of what to expect from the SUV.
The high-riding Aston appears to have borrowed its grille from the V8 Vantage. While this looks completely exquisite on the Vantage, it's a bit harder to take in on the DBX. Part of this may owe to some of the bodywork behind the "grille" which looks unfinished, so we can expect the design to be more appealing when the final product arrives next year.
In side view the DBX is no traditional Aston Martin, in that it looks a bit unexciting. The rear however, tells a different story thanks to what appears to be two spoilers – one hanging from the roof and the other from the hatch, in ducktail style. Still, even the funky-looking rear appears to be fragmentary with small exhaust outlets sticking out of the bumper.
Aston Martin has been putting the DBX through a number of tests including a Welsh rally stage where the car is intended to outrival its competition. This however does not mean that the SUV will be all about off road driving – another environment worth mentioning where the DBX has been put to its paces is the infamous Nurburgring, so we can expect handling to be on par with the Astons that we've known thus far.
As far as powertrains go we don't anticipate an electrified version to kick off with the initial arrival of the DBX, but Aston Martin plans to build such models in the same factory which it dubs "Home of Electrification", so we can expect an electrified model either in hybrid or all-electric guise anytime from 2020 judging from what the automaker hints at.