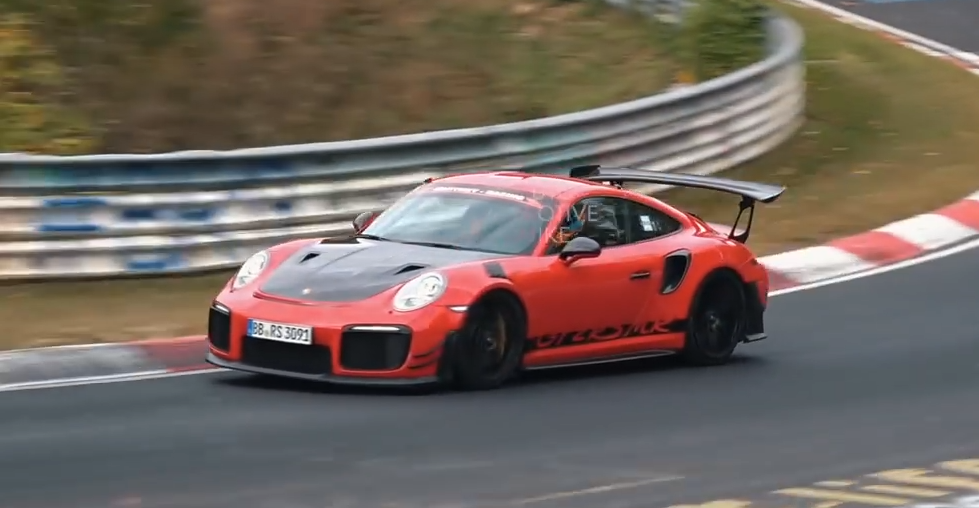 As we know, earlier this year the Porsche 911 GT2 RS banged in a lap time of 6 minutes 47.3seconds at the Nurburgring making it the fastest production car ever to lap the infamous 'Ring. This month, Manthey Racing came with a one-off factory tuned version and it was 7 seconds quicker than the stock model. Now the same car has been spied revisiting the Nordschleife.
For the record, although Manthey Racing handles the performance upgrade of the 911 GT2 RS to make an MR version, Porsche claims 51 percent of the company. It now seems like the partnership plans to keep the title of having the fastest car on the Green Hell as the 911 GT2 RS MR continues to be put to its paces around the circuit. However, it may prove to be a tall order for the crew to break its own record as there's only a limited amount of time before snowfall season begins.
It is rather disappointing that the two companies are reluctant to let out details of performance upgrades done on the MR model as all that's been said of the "performance kit" is that "an overall vehicle setup tailored to the circuit characteristics of the Nurburgring-Nordschleife." Luckily we know that the stock model produces 690 hp (515 kW) and 750 Nm from a 3.8-litre twin-turbo flat-six engine. We also know that the engine is mated to a seven-speed dual-clutch transmission which sends power to the rear wheels, the result is a 0-100 km/h time of around 2.8 seconds and a top speed of 340 km/h. It is therefore presumable that Manthey Racing's car punches a bit over these figures.
If you're looking to get the MR-tuned GT2 RS you may have to shrivel your ambitions a bit as this is a one-off project. Still, with Porsche building no more than 1,000 units (reportedly) of the stock model which all are already accounted for, getting a 911 GT2 RS seems to be quite a reach even with the stock version.