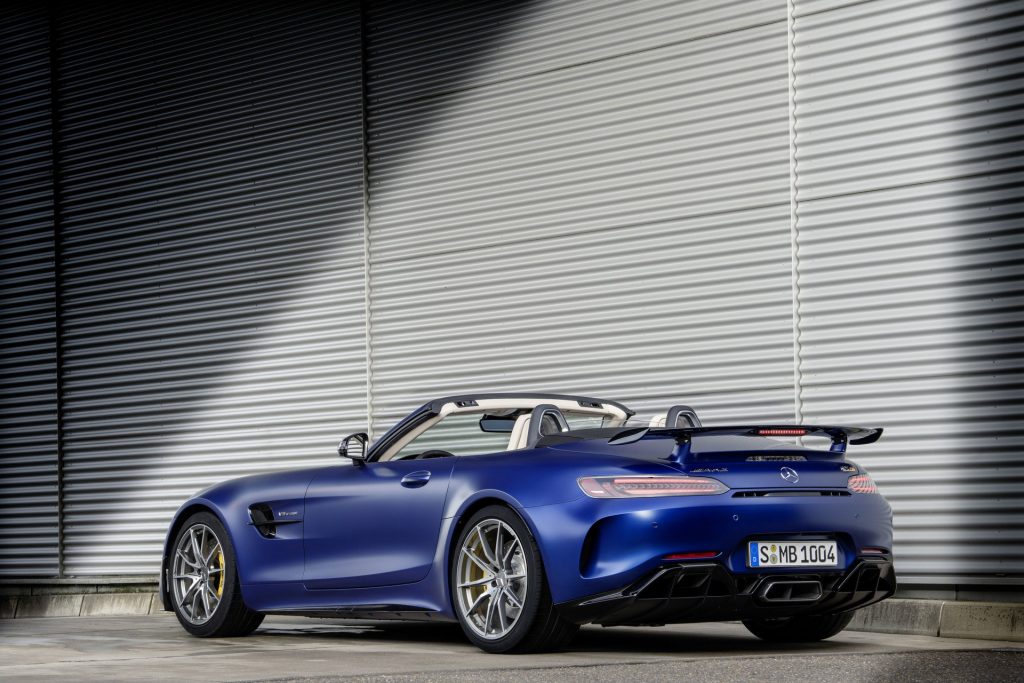 Convertible supercars are somewhat of a controversial topic. Purists will maintain that there will always be some rigidity lost by taking a chunk of the roof away. Be that as it may there is no doubt that by taking the roof off any supercar, the theatre levels are turned up to eleven. And now, Mercedes-AMG has given the roof deduction treatment to its flagship sportscar, the GT R.
The AMG-GT R Roadster will be making use of a triple-layer fabric roof, instead of a folding hardtop. The car will also feature some gloss black mirrors and some yellow brake calipers to ensure the either 19 or 20-inch wheels can stop turning sufficiently.
The performance figures are pretty much the same as the coupe version of the GT R. You will be getting a power output of 576 horsepower (430 kW) from the 4.0-litre, bi-turbo V8 engine and 700 Nm of torque to go with it. 3.6 seconds is how long it will take to get from 0-100 km/h and you'll continue to accelerate until you reach 317 km/h.
The GT R Roadster will see the refreshed Mercedes' interior with the 12.3-inch digital instrument cluster and 10.25-inch infotainment system we're familiar with from the E-Class and S-Class. The AMG Performance seats will be made out of black Nappa leather and will be complimented with carbon-fibre and Piano Black finishes in and around the cabin.
Unlike traditional convertibles, the GT R Roadster is very much performance orientated. A titanium exhaust, carbon-fibre torque tube, track-focused suspension as well as Mercedes' rear-wheel steering system all mean that the GT R Roadster will feel right at home on a race track. The car also features active aerodynamics. A part of the car made out of carbon fibre extends by 40mm which essentially makes sure the car sticks to the road and reducdes the lift of the front axle by about 40 kg at 250 km/h.
Only 750 GT R Roadsters will be made in total, and no indications of price or when production will start have been announced.