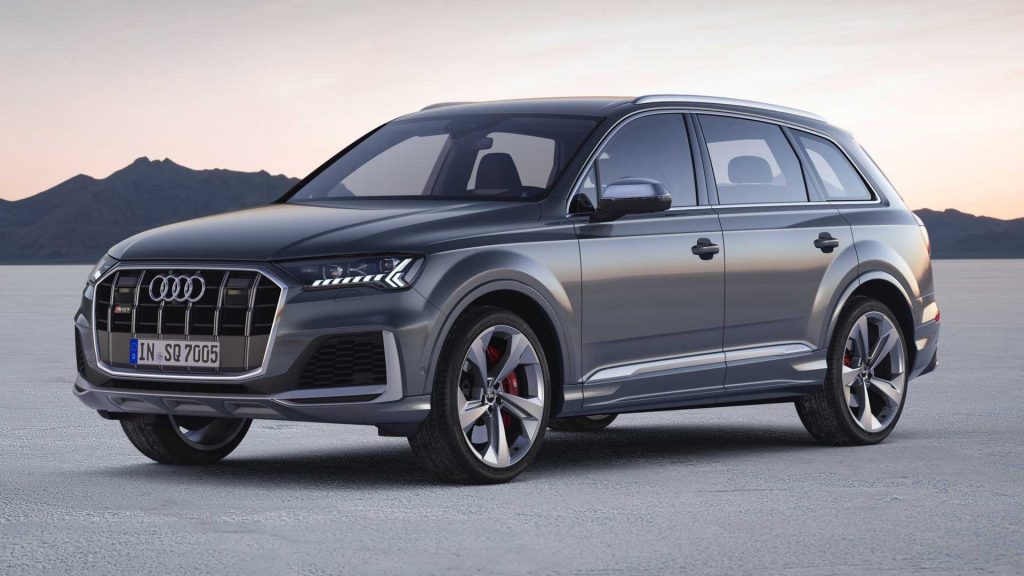 Go big or go home; that's the motto of Audi's latest release. The new model is an enhanced version of their biggest SUV – the SQ7 – but it's more than just the engine that's been supercharged ahead of its Autumn release date with the body, chassis and interior benefitting from a tweak or two. 
It will set you back a pretty penny though with prices starting at £76K. The question is, it worth the money?
The SQ7 TDI is powered by a V8 diesel engine but the German manufacturers, have incorporated a 48V lithium-ion battery. It gives the vehicle hybrid capabilities and there is no need to concern yourself with performance either as it can hit 62mph in under five seconds and tops out at 155mph – a limited maximum.
These are numbers that put it up there with the quickest SUVs on the road, which is hardly surprising when you consider the 429bhp and 900 Nm of torque that is generated. Yet despite all that performance, it will still achieve near to 40 miles per gallon and C02 emissions sit in the region of 200g/km, which puts it near the top of its class.
The bodywork has seen a revamp too with the front and rear bumpers taking on a more dominant look whilst the skirts have also been upgraded in size. 20-inch alloy wheels, chrome style mirrors and LED headlights either side of the silver grill bring the exterior together in a bold yet elegant manner.
There are supersized calipers, which come in a red or black finish, and carbon-ceramic brakes are available for those not opting for the standard spec. Open the soft close doors and you'll find a short but girthy automatic eight-speed gearbox and an interior that is stylishly sculpted with aluminium trim and stainless steel pedals that complement the exterior. 
Sink yourself into the leather sports seats, which can be upgraded to include a massage function, and you'll be met with four-zone air conditioning, a near eight and a half-inch screen embedded on the dash that is compatible with both Apple Car Play and Amazon Alexa and, again, depending on preference, customisable lighting and potentially an upgraded sound system provided by Bang and Olufsen.
When it comes to the actual drive the SQ7 won't disappoint either. You'll find the design has reduced external noise to next to nothing regardless of how hard you push the engine and the suspension settings are in your full control to adapt for your driving needs ensuring a smooth ride every time. The all-wheel steering provides fantastic stability particularly at high speeds whilst the rear wheel's ability to move in the opposite direction when moving slowly gives the SQ7 a surprisingly small turning circle.
Audi has developed a model that will catch the eye on any road, and it will keep pace with most vehicles of a similar size whilst still giving the driver a more than respectable fuel efficiency. The price tag means it will be competing with the likes of the Porsche Cayenne Turbo and the Range Rover Sport SVR – both can top out higher than the Audi but they'll cost you near on £100k off the grid and they won't get near to the mpg posted by the SQ7 meaning they'll cost you more each time you drive them.All things considered the new car on the block measures up well in almost every respect. – Audi, which if you are an NFL wagering enthusiast, you might have noticed as part of the advertising campaign for this year's Super Bowl, scored a touchdown with this new model. So, don't be surprised to see a response from its rivals in their next releases.