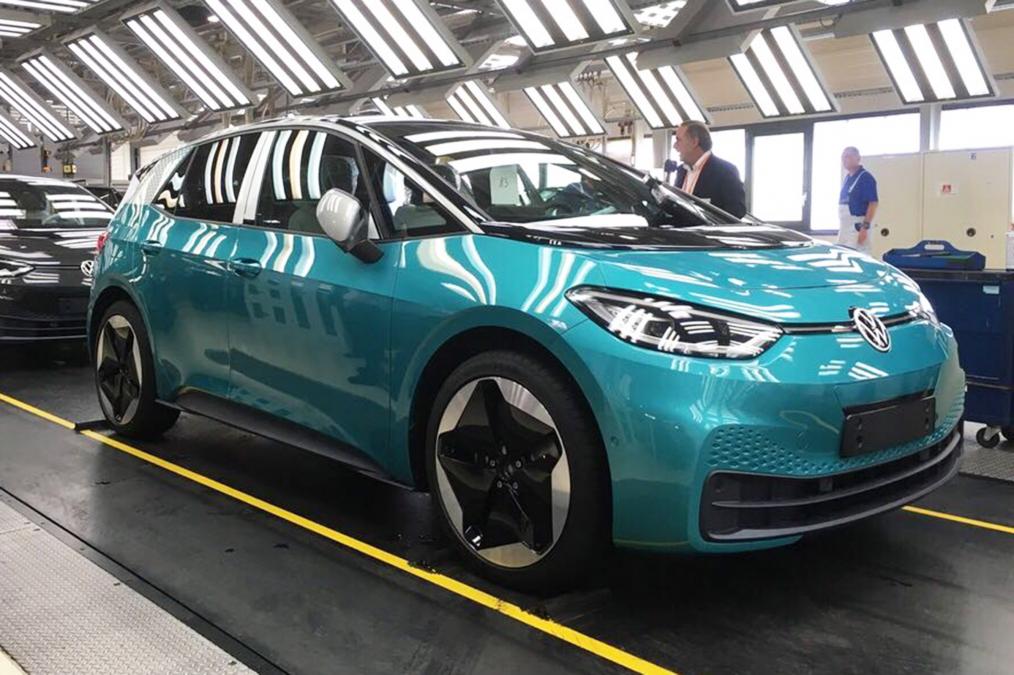 At the 2019 Frankfurt Motor Show, Volkswagen introduced its first affordable long-range electric car, the ID.3. Scheduled to be delivered in mid-2020, the ID.3 will come in three variants that offer between roughly 205 and 340 miles of range.  The base model of the ID.3 is scheduled to be priced $33,180 and offers a 45kWh battery which translates to 205 miles of range. The company did not provide pricing information for the two larger capacity cars, which will feature 58kWh and 77kWh batteries and will respectively offer around 262 and 340 miles per charge.
VW says the base version of the ID.3 will charge at up to 50kW. Faster 100kW charging will come standard on the midrange 58kWh version, while even faster 125kW charging will be available on the top-tier ID.3. For those who are concerned about battery pack longevity, Winner VW says that Volkswagen is offering an eight year warranty on the ID.3's battery pack.
The ID.3, which resembles VW's popular Golf hatchback, has the potential to be a big model for VW. It will be the first vehicle built on the company's new modular all-electric platform, one that is scheduled to be the foundation for many other models. In particular, over the next few years, VW will release a crossover SUV (the ID. Crozz), a four-door sedan (the ID. Vizzion), and relaunch of the famous VW microbus, the ID. Buzz.
While the ID.3 may resemble an updated Golf from the outside, but it is scheduled to be far roomier on the inside. The reason is because it is electric. By removing the internal combustion engine, placing the electric motor right on the rear axle, and putting the batteries in the vehicle's floor, the automaker is able to extend the cabin forward, thus freeing up plenty of space. 
Inside that more spacious cabin, ID.3 drivers and passengers will find an interior that is quite advanced. The central focus is a new 10-inch touchscreen that sits in the middle of the ID.3's dashboard. VW has also opted to rely on touch-sensitive buttons throughout the interior.  Some other high-tech touches include an optional "augmented reality" heads-up display that projects information onto the ID.3's windshield and voice-activated controls that can be triggered by saying "Hello ID."
The ID.3 can also be equipped with keyless entry, and the car's LED matrix headlights will even wink a set of "eyelids" when the owner approaches, a feature that VW believes will be very popular.
The ID.3 unveiling comes a few days after VW-subsidiary Porsche revealed its first all-electric sports car, the Taycan.  Together, these vehicles, along with the Audi E-Tron represent the tip of the spear in VW's effort to dominate the emerging global EV market.