This might sound cliched but today a dream of mine really did come true! I got to drive a Lamborghini Gallardo! This wasn't the standard Gallardo either but the Gallardo LP570-4 Superleggera. For the non-petrolheads among us, this is the lightweight more powerful version of the Gallardo. Full specs can be found here.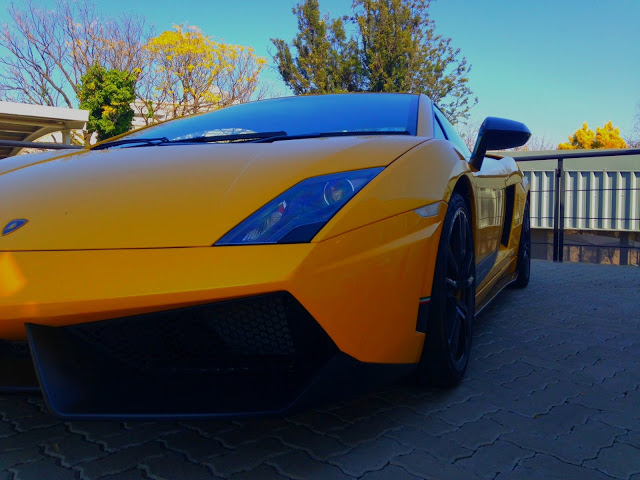 Getting into this particular car you are immediately hit with an overload of carbon fibre bits and pieces and you know straight away you are in a very serious machine. Sitting in the lightweight version of the best selling Lamborghini of all time is quite something. Knowing you have a screaming 570 hp V10 under your right foot is even better! Finally being behind the wheel of a raging bull and looking onto a dashboard I have only seen in pictures is a feeling I cannot explain so let me rather get to the juicy stuff.
I pulled off nice and easy with it in manual mode (flappy paddle E-gear) and my immediate thought was just how calmly it pulls off, just like my DSG gearbox in my Golf GTI. What I didn't realise was that as you hit 4000 rpm, the valves in the exhaust open and with that every single one of my senses were on high-alert. Obviously this car flies through its gears with 570 hp on tap and 100 km/h pops up in a serious 3.4 seconds. What blew my mind was how quickly and easily it hit 200 km/h. I must point out that I did not test this from rest but I know it can do 200 km/h from stand still in 10.2 seconds. I obviously couldn't test the top speed either but that is a scary 325 km/h.
After the little test run, I stopped and perved over it for a while so that I could let my heartbeat return to normal. I snapped these photo's and still couldn't believe what I had just driven. I could go on and on about this car, but I must stop and get back to the real world. Price wise, this car is R3.6 million and has a touch over 1000 km on the clock. It is finished in Yellow Pearl and has matching yellow interior stitching on the alcantara. The interior is fully carbon, with Sat Nav, bluetooth and iPod connectivity. Externally you get a rear-view camera, fixed carbon rear wing and lifting suspension to get over those speed bumps and other bumps that we have so many of in SA.
Last, but certainly not least, I would like to thank Lamborghini Johannesburg for this awesome opportunity as this would certainly not have been possible without them. I am properly impressed with the enthusiasm, friendliness and interest they have there and of course for their passion of the Raging Italian Bull's…