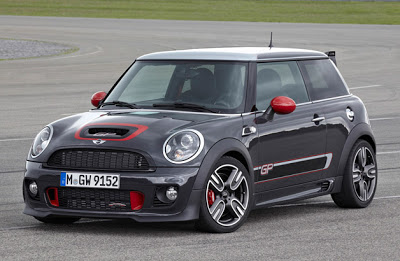 If your are searching for a small car then nothing beats the 2013 Mini Cooper as it is aesthetically appealing and is practical enough to get the job done. Regardless of how you view this brand, there are no losers in the Mini Cooper family as even the basic models excel with a hefty crisp acceleration. In the 2013 line up of Minis you can go for the turbocharged Cooper S which is a highly favored choice for those who want a combination of image and practicality. If you have an insatiable craving for speed then the top-level John Cooper Works edition is absolutely ideal for you. If budget is an issue then all Minis can be customized to suite your preferences and it is to a level unparalleled by any other small car with in this portion of the market. This due to reasonable pricing, manufacturing personalization, interior variants, exterior variants and dealership rewards and extra installed accessories.

Despite its petite footprint, the car is rather spacious and comfortable for two adults.
The charming little 2013 Mini Cooper is available in the JCW- John Cooper Works, Cooper S and Cooper, and each comes in the two door hatchback or convertible body design.
Exterior Features of 2013 Mini- Cooper
The base 2013 Cooper as seen here at MINI of Balti comes fitted with 15-inch alloy wheels, complete power accessories, remote entry, air-conditioning, speed control, an adjustable driver seat, leather upholstery, floor mats, a tilt-and-telescope leather encased steering wheel, color-changeable mood lighting, Bluetooth, a six-speaker stereo with a CD player, HD radio, a USB/iPod port and an auxiliary audio jack. With the Cooper convertible model you can look forward to 16-inch alloy wheels and a power convertible roof inclusive of a sunroof feature. The Sport package gives you 16-inch wheels on the hatchback design and 17-inch wheels on the convertible with fog alert lamps, traction and flex control, a back spoiler, sport seats and hood stripes.
The John Cooper Works is fitted with a super turbo engine, upgraded Brembo calipers, an aerodynamic designed body and cloth seating.
The 2013 Cooper is equipped with a 1.6 liter four-cylinder engine and gives 121 HP and 114 pound-feet of torque. It is a six-speed manual with incline-start assist and a six-speed automatic is optional. Mini test drives show that a manual-equipped hatchback will zoom from zero to 60 mph in 8.3 seconds (9.5 seconds with the automatic).Estimated fuel economy is 29 mpg in town/37 mpg on the freeway and 32 mpg paired with the manual.
The John Cooper Works turbo boost will produce 208 hp and 192 lb-ft of torque. A six-speed manual or a six-speed automatic are optional and available, with the automatic being a new option for the JCW for 2013. Mini estimates a zero to 60 time of 6.2 seconds for the hatchback and 6.6 for the convertible.
Interior Design Of the 2013 Mini Cooper
The aesthetics in the interior of this petite motor has a sense of playfulness and fun. The enormous center located speedometer resembles the old Mini. It might appeal to some but the design is far from intuitive and too cutesy to some. However, coming back to the 21st Century the Mini is up to date in terms of electronics. The Mini's optional Mini Connected infotainment feature does feature smartphone seamless integration using a 6.5-inch display situated in the center of the car's speedometer. Downloading a free app to your smartphone gives access to Facebook, Twitter and a plethora of Internet radio stations. Plus the Mini Connected has Google search and send-to-car functionality.
The car's front seats are long giving generous stretch and good height for headroom. However in the rear, things are a squeeze with a paucity of legroom that makes seating adult passengers an impossibility. With just (5.7) cubic feet on tap, there is also a shortage of luggage space, but laying the back seats flat extends that to 24 cubes.
Coming to the convertible, you will get a sunroof function that allows you to retract a portion of the soft top as opposed to lowering it completely. Its stylishly designed tailgate trunk opening features has a separate package storage tray that can be pulled out to load bigger items in the petite six cubic feet of trunk. Unlike most convertibles, the Mini's rear seats can be laid flat to place larger items.