Some of us have been lucky enough to have seen the F-Type in the flesh (myself included) but when I got invited to the official launch of this new beauty I did not hesitate to grab the opportunity to see it up close and personal.
Upon entry, we were greeted with smiley and extremely keen faces and I will explain why in a little bit. Champagne in one hand, delicious snacks in the other but the 4 cars hiding under the red silk is what caught my attention immediately. I sat down at one of the tables and started paging through the immaculate brochures on the new car and ended up being drawn into the passion they feel for this car and read it from end to end. A nice couple then sat down with myself and we got chatting about the F-Type and cars in general and then worked out they had ordered the V6 F-Type and were so excited to see it properly for the first time. We exchanged opinions on colour choices and favourite cars of all time and then the action started to happen.
A mini-movie was shown to us starring a red Jaguar F-Type and some other well known Hollywood celebs but as you all know, this is not why we were there and we could not wait to see the reveal. The head of Jaguar Bryanston then got hold of the microphone and welcomed us all. I know these are the people who have to be over enthusiastic about the product as they are trying to sell them but you could really see that he was extremely genuine and so passionate about their latest arrival which brings me back to the point of the extremely keen faces. All the staff from the dealership had already seen the cars but you could just see how excited they were to pull those covers off for all of us to see.
On to the reveal and lots and lots of photo's being snapped. This is the part where I excuse myself for being a really sh*t photographer but that is not my job. As the covers were pulled off, we saw that they had 3 of the big daddy V8 S and one V6 S (this made me happy).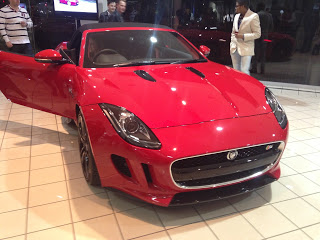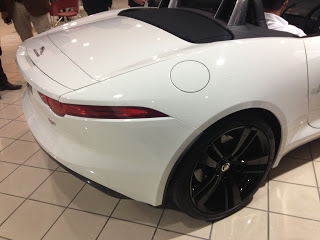 The F-Type looks so hot in white with black wheels
Browsing around the vehicles taking pictures from 'photographic' angles I heard someone say "start up the V8 please" so I quickly got across to the red V8 S where there was someone about to start it. Switched on video and well I was blown away… Not literally (well almost) but that sound is just out of this world. I really do not think any Jaguar in the world (other than the serious racing ones) sound like this. I have uploaded that video to YouTube and you can watch it below (best with earphones on).
The roof opens and closes in a very quick 12 seconds and you can do this at upto 50km/h. This post is about the launch and about the overall impact of the car. It is a very good impact and this car will do wonders for Jaguar. This car is a complete 180 for Jaguar in my opinion and in a VERY good way. It will bring an entire new client base and if they keep making cars that look this good then they will keep them too! Once I have driven it (hint hint Jaguar) I will do a post on that but for now, enjoy the sound, the pictures and legitimately think about ordering one of these if you are in the market for a new sporty little car. It is stunning!
Pricing for this car is as follows but that is not really why I am writing this post:
R845 000 for 250kW/460nm V6.
R975 000 for 280kW/460nm V6 S.
R1 385 000 for 364kW/625nm V8 S.