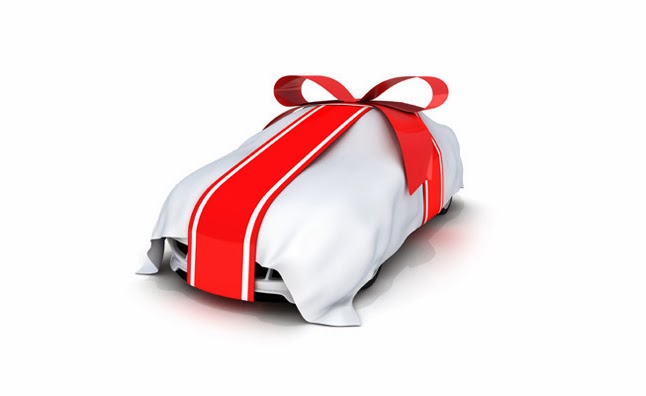 If you have an automobile-loving girlfriend, gifting her something related to her love is a great way of ensuring she's delighted with what she receives and rewards you for it!
Thankfully, it's not difficult to suggest ideas in this regard. First though, we hope you know your lover's personality well and are clued into her likes and dislikes. (If not, you might want to start there and then return to this post.) So let's look at some automobile-related gift ideas for the special woman in your life.

Buy Her a Car
Well, if it's not too much to ask. Few of us can afford to buy our girlfriends or wives a car, not that we wouldn't love to. But it's just totally out of our budget.
In case a car isn't out of your budget, we recommend going for any of the ones listed below. If you know your girlfriend loves cars, you probably also know the colors and types she would prefer. If she has ever come out and clearly said that she likes a particular model, that is half your problem solved!
If not, based on statistics, American women tend to go for the following cars the most (with the top most being the most bought model):
Volvo S40
Nissan Rogue
Volkswagen Eos
Volkswagen Beetle
Hyundai Tucson
Honda CR-V
Toyota RAV4
Nissan JUKE
Jeep Compass
Nissan Versa
Not all women may like the above mentioned cars though, so it makes sense to get a second, third, and then a fourth opinion. Here's another write-up on best-selling cars for women, if you need better alternatives.
Failing everything else, it's best to straight up ask your better half which car she likes the best. She'd never guess you're thinking of gifting her a car! And if you want to surprise her, find her something that you think will suit her lifestyle and return an efficient fuel economy.
Can't Go Wrong with Accessories
Assuming buying a car is out of the question for you, or if your girlfriend already owns one and is happy with it, accessories is what you turn to next.
As with fashion, so is it with cars. Women love accessories. And if you are ever stuck for gift ideas, these can be your go-to suggestions.
Car lashes
Don't laugh, this is a genuine car accessory, and obviously aimed at the ultra-feminine types who do not mind a laugh at the expense of gender stereotypes.
These are basically eyelashes for a car. The joke is on the headlights of a car, which rather resemble the big eyes of a typical female beauty.
Needless to say, these lashes will look better on some cars than on others. (If your girlfriend drives a Ford Escape, you can forget all about these, though they'd fit like a charm on the Beetle pictured above.) The idea is to make her car look cute and quirky, not ridiculous.
Steering wheel covers
So your girlfriend isn't really the girly type and would absolutely cringe at the thought of bunny ears (yes, them too) or car lashes for her car.
No worries.
Get a leopard print cover for her steering wheel. Most women like animal prints, and these prints usually go swimmingly well with a car's décor.
And if animal prints aren't her thing either, you can always find covers in other vibrant designs and colors. Pick a color that you know she likes and which will also go well with her car décor.
Car charms
These are less intrusive than the other accessories, and they are available in real charming varieties. Is your girlfriend into yoga and/or eastern spirituality? Gift her a charm based on a Hindu symbol. Is she fond of Native American history? Get her a dreamcatcher charm. Try to find something that suits your girlfriend's personality. In all likelihood, she will love this. Gift her a set — one charm for each day of the week.
Seat cover & floor mat sets
Anybody who loves their car would love the idea of spruced up interiors, and one of the best ways to change or perk up a car's interiors is by giving it new seat and mat covers. It doesn't take long to change them and the effect is amazing.
A driver pocket or a car organizer
Now this is something that not only looks good but also comes in extremely handy. A driver pocket can hold your girlfriend's phone, tablet, sunglasses, license papers, anything that she needs close by when she's behind the wheel.
A car organizer will go one step further. It will help keep your girlfriend's car free of clutter and put everything that she is in the habit of using on a daily basis, newspapers, magazines, phone charger, water bottles, the book she's currently reading, or even a set of gym shoes, in one nifty and accessible place.
Women love storage and a smart utilization of space, so you can rest assured that your other half will absolutely adore this gift.
A rearview camera
This probably takes the cake in terms of functionality and use. A rearview camera in a car is of great help when we are backing up our vehicles in low-light conditions or in tight spaces. You can even install the camera in your girlfriend's car, just look up a good DIY tutorial on the topic.
Author Bio: Lori Wagoner is a marketing and business consultant working with All Car Insurance Companies which is a realtime online platform for reviews of auto insurance companies, comparison of quotes, and discussion/resources related to the car insurance sector in the U.S. Catch Lori on Twitter @LoriDWagoner.