We know that Porsche was going to unveil their new facelifted 911 Carrera but we all thought they would wait till the Frankfurt Motor Show. Well they have not waited and now we get to see the car as well as read about all the changes that have taken place. The facelifted model has new headlights with four-point daytime running lights, restyled wheels, modified door handles and a new engine cover with vertical louvres. Last but not least, there's slightly revised taillights with four-point brake lights. Porsche has not released many interior shots but they confirm that it will come with a new Porsche Communication Management system (PCM) which features a 7″ display with multi-touch gesture recognition, Apple CarPlay compatibility and an improved navigation system. Other updated features on the car include;
An optional automatic speed control system which can now apply the brakes with the pre-set speed is exceeded.
An optional Adaptive Cruise Control system with a coasting function (when equipped with the PDK transmission)
An optional lane change assistant system that warns the driver about vehicles in their blind spots.
A standard post-collision braking system.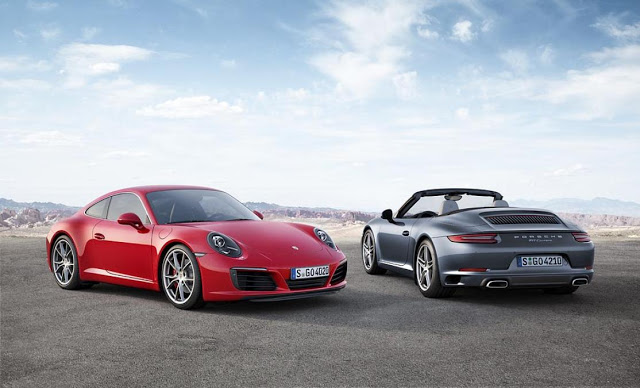 Power comes from a new twin-turbo 3.0-litre six-cylinder engine that produces 365 horsepower and 450 Nm of torque in the Carrera and 415 horsepower and 500 Nm of torque in the Carrera S. If you opt for the PDK transmission and the Sport Chrono Package, the new Carrera can hit 100 km/h in 4.2 seconds and the Carrera S can accomplish it in 3.9 seconds. Both models are 12% more efficient than their predecessors and the Carrera S can now save you 1.0 L/ 100km.