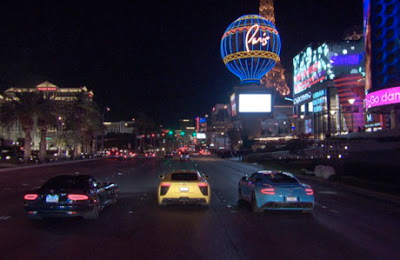 Las Vegas has long been heralded as the entertainment capital of the world and is renowned by petrol heads from all over the globe as one of the very best places to experience everything motorized. Fancy a trip in a high-powered sports car, a gentle meander in a luxury vintage motor, or a roaring road trip across the surrounding desert? You may just want to give Las Vegas a try.
Classic Americana: your perfect day in Vegas
Las Vegas is a fantastic example of classic Americana, positively bursting with artifacts relating to the country's history, cultural heritage, and folklore. There are few places in the US where luxury and history blend so well, and patriotism is rife along the Strip. For example, how many times have you strolled into a Vegas club to be greeted by vintage license plates, or wandered along a neon boulevard with so many reminders of America's proud history? For this reason, few activities can beat the joy of renting a luxury vintage motor car and cruising up and down the Strip, and a little further still. After all, how are you supposed to get a better view of luxury, with sights such as the Wynn and Encore Las Vegas, the Bellagio, the Mirage, and Treasure Island? Steve Wynn is well known for his involvement with the reinvention of the Strip, and these resorts bearing his name and innovations, plus the many Forbes Travel Guide winning restaurants contained within them, are something of a staple on the Las Vegas skyline. Now, imagine driving beneath these towers of luxury as they glitter against the sun, and you may begin to realize why beginning your road trip in Las Vegas is such a fantastic idea.
Your Vegas road trip: traveling further afield
If you've exhausted the Strip and want to take your luxury car further afield, there are several fantastic destinations that are thoroughly worth the road trip, including the Hoover Dam, the Grand Canyon, and the Valley of Fire State Park, which are frequently visited by tourists. Las Vegas is, after all, a great place to begin your exploration of the desert and beyond. Lake Mead is just 30 minutes away from Vegas and offers drivers the excuse to meander as they admire natural rock formations, glistening water, lava hills, and a little of the desert's wildlife. Lake Mead is also the closest large body of water to Vegas, offering the perfect opportunity for swimming, jet skiing, and boating, and is another great way for thrill-seekers to see the surrounding area. The driest, hottest, and lowest area in the US, California's Death Valley, is one more fabulous destination for a road trip; the geography of the area is worth the drive alone, while there are numerous gold mines and historic sites to explore along the way.
If you want to explore a further state or escape the desert, why not head to Zion National Park in Utah? The park has some legendary walking and hiking trails, as well as abundant forests, waterfalls, and rock formations. Think you've had all the luxury you can handle in Vegas? Think again; Los Angeles may be almost five hours from the Strip, but it is an amazing finishing point for any road trip. From the desert, wend your way through some of America's starkest yet beautiful landscapes and, finally, enjoy the beautiful coast in all its glory. You won't regret it, we promise.
There are few destinations as luxurious as Las Vegas, which already has a vast reputation as the world's entertainment capital and the brightest beacon in the US. If all of that luxury ever gets too much though (as if…), Las Vegas is also a fantastic place to begin a road trip, particularly if you've got your hands on a vintage car. Wind your way through some of the surrounding area's most spectacular sights, and who knows where you'll end up…