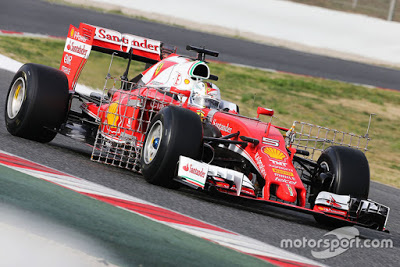 Eighty days have now passed since the chequered flag came down on the 2015 season, and this week provides us with the first opportunity to see what is in store for this year, as pre season testing kicks off in Barcelona. With most teams having already unveiled their cars for the 2016 campaign, it is an early chance to catch a glimpse of what they can do in action. With the first race of the season still a month away, drivers both old and new will be looking to use every opportunity to familiarise themselves with their ride for the year.
2016 is looking likely to provide us with our first genuine two way title challenge for the first time since 2012, as Mercedes and Ferrari look set to battle it out once again. Mercedes led by current World Champion Lewis Hamilton have recently unveiled their WO7 hybrid for the upcoming campaign, whilst Ferrari have launched their SF16-H, which sees them revert back to a push-rod suspension for the first time in four years.
Hamilton was the busiest driver on day one of testing, clocking up twenty-eight laps in the morning session. However, it was rival Sebastian Vettel who set the early pace, beating Hamilton's lap time by 0.825 seconds. This could well be a theme of the season, with the early odds on Lewis Hamilton to win again. Indeed Coral currently have the British driver as the 8/13 odds on favourite to reclaim his title as World Champion in 2016.
Another challenger to Hamilton's crown comes in the shape of team mate Nico Rosberg. With the relationship between the two often appearing strained over the years, the German has recently stated that he sees his long term future with Mercedes. Despite enjoying periods of dominance over his team mate and rival, Rosberg has come off second best in all three years together, with Hamilton claiming glory in both 2014 and 2015. Those of you who keep a close eye on F1 betting however, will be sure to keep an eye on Rosberg's odds heading into the new season.
It is easy to get overly excited as you see pre season times coming in and you notice an unfamiliar look to the leader board. However, come race time it looks certain to be the main contenders who once again lock horns as they seek to claim glory, starting in traditional fashion in Australia in March. New team Haas could be a name to look out for as they look to challenge for points in their debut season in F1. The American newcomers have signed up ten time podium finisher Romain Grosjean to spearhead their attack.