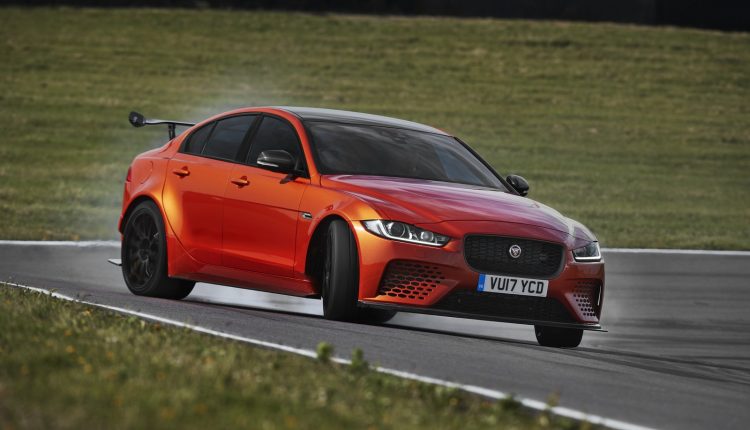 We saw a preview last month but now the Jaguar XE SV Project 8 is official and it looks rather furious.
It has been built by the Jaguar Land Rover Special Vehicle Operations team and now packs a 441 kW (591 hp) 5.0-litre supercharged V8 with 700 Nm of torque. This is connected to an eight-speed Quickshift transmission which allows the super sedan to hit 100 km/h in just 3.4 seconds before going on to a top speed of 321 km/h.
On the outside, the model has received a carbon fibre front bumper, hood, and an adjustable splitter. The SVO crew  also installed a flat underbody panel and a carbon rear bumper with an aggressive diffuser. The 20-inch forged aluminium alloys are not to be missed along with the very prominent adjustable rear wing.
To keep things under control, engineers installed a thoroughly revised suspension with stiffer springs and manually adjustable Continuously Variable Dampers which can lower the ride height by 15mm for track use.  Other notable additions to the British beast are;
Electronic Active Differential with an oil cooler
Carbon ceramic braking system (first application of Formula 1-style silicon nitride ceramic wheel bearings on a road car)
All-wheel drive
Inside the car you can expect a very sporty feel thanks to Alcantara and carbon fibre trim. If you get the 'standard model' you will  get a four-seat interior but the optional two-seat Track Pack adds carbon front racing seats with four-point harnesses and a rear roll cage.
Production will be limited to 300 units and all of them will be left-hand drive which means South Africa will not be getting any!
U.K. pricing starts at £149,995 which is a hefty price tag if you do the conversions.