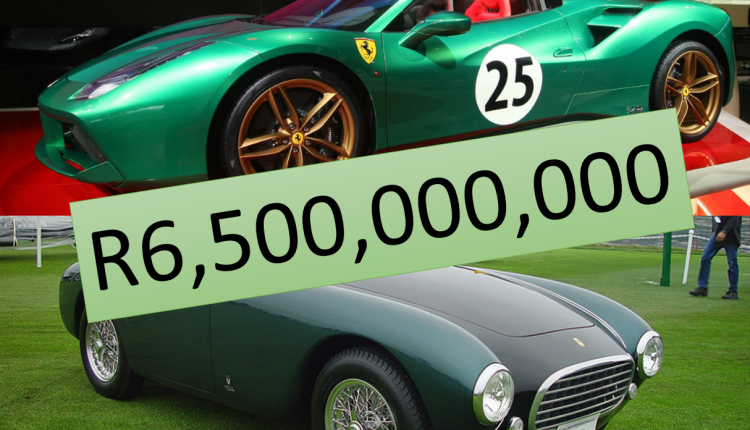 Along with Goodwood Festival of Speed, Monterey Car Week most definitely sits right at top of the bucket list.
This year promises to be a very special one for the Ferrari with an absolutely mind-boggling array of their prancing horses going on display. It is their 70th anniversary year after all so to celebrate this they are bringing XEVENTY of their most iconic models with a total value of $500 million (R6,500,000,000).
Yes you read that correctly and if you are not too good with numbers like our dearest JZ that is six and a half billion rand.
The oldest Ferrari on display will be a 1951 212 Inter Coupe Vignale and the newest will be a 488 Spider (70th Anniversary edition). Some other notable mentions are; two 1962 250 GTO's, a 1967 275 GTS4 NART Spyder and a 1983 288 GTO.
Check out the full list below and prepare for some incredible imagery from Monterey.
1951 212 Inter Coupe Vignale
1952 342 America
1953 166MM Vignale Spyder
1954 750 Monza
1954 500 Mondial Berlinetta PF
1954 250 Monza
1954 500 Mondial Spyder PF
1954 375 MM
1955 250 Europa GT 2nd Series
1956 250GT Speciale
1957 250 Testarossa
1958 250 GT (Tour de France) Berlinetta
1958 250 PF Cab Series I
1958 412 S
1959 250 PF Cab Series I
1959 410 Superamerica
1959 250 GT LWB California Spyder
1960 250 GT SWB Competizione
1961 250 GT Cabriolet Series II
1961 400 Superamerica Coupe Aerodynamico
1962 250 GT SWB
1962 400 Superamerica PF Cabriolet, S1
1962 250 GTO 3729 GT
1962 250 GTO 3445
1963 250 GT SWB California Spyder
1964 250 GT Lusso
1965 275 GTB / 6 Carb (Shortnose)
1965 275 GTB (Shortnose)
1966 275 GTB (Longnose)
1967 275 GTB/4
1967 330 GTS
1967 330 GTS
1967 275 GTB/4
1967 275 GTS4 NART Spyder
1967 365 GT 2+2
1968 365 GTB/4
1968 Dino 206 GT
1969 365 GTC
1972 365 GTB/4
1972 365 GTC
1973 365 GTB/4
1973 365 GTS/4
1974 246 GTS
1976 512 BBLM
1981 512 BBLM
1982 308 GTBi
1983 288 GTO
1985 288 GTO
1990 F40
1992 348 TS
1992 512 TR
1995 F50
1995 F50
1997 F310
2001 500 Barchetta
2003 Enzo
2003 456M GTA
2004 360 Challenge Stradale
2004 575M
2005 575M Superamerica
2005 575M
2006 Enzo FXX Evoluzione
2008 599 GTB Fiorano
2011 599 GTO
2011 599 GTO
2014 LaFerrari
2017 F12tdf
2017 F12 Berlinetta
2017 SP275RW (one off)
2017 488 Spider (70th anniversary edition)