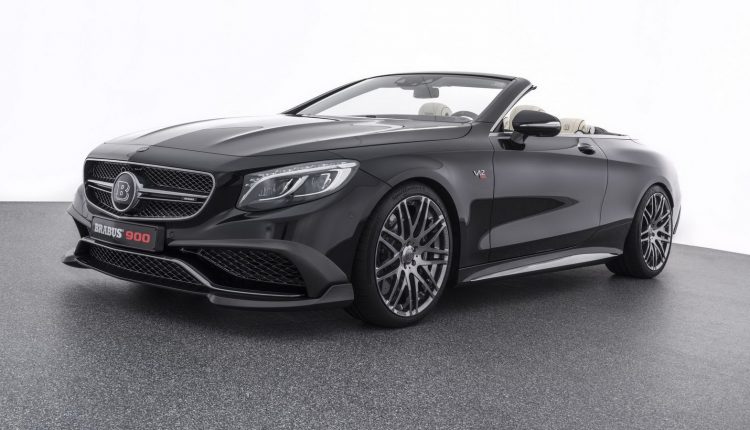 When you buy a Mercedes-AMG S65 Cabriolet you would think that the last thing on your mind is that it needs more power but when it comes to BRABUS, there is no such thing as enough.
Introducing the Brabus Rocket 900 Cabrio which becomes the fastest four seater cabriolet in the world when they are done with it.
To start they take the 6.0-litre twin-turbo V12 and increase the displacement to 6.3-litres by enlarging the cylinder bores. They then fitted larger turbochargers, a new control system, and a bespoke exhaust manifold, which results in a total output of 662 kW (887 hp) and 1,500Nm of torque.
Thanks to this increase in performance, the drop-top beast hits 100 km/h in just 3.9 seconds and go all the way to a top speed in excess of 350 km/h. For comparison sake, the standard model achieves the sprint in 4.1 seconds and has an electronically limited top speed of 250 km/h.
If you know your cars, you will know that the S65 Cabriolet does not benefit from the 4MATIC system which means all the power is sent to the rear wheels. With such an enormous increase in power Brabus had to modify the 7-speed transmission to cope with it and installed a high-performance limited-slip differential, with a locking rate of 40 percent.
Other changes and upgrades include; sport exhaust system with ceramic tailpipes, 21-inch wheels, lowering module that brings the vehicle 15mm closer to the ground, and an aerodynamic body kit.
The interior has received a few mods too, such as the aluminum accents, scuff plates that carry the brand's illuminated logo, in different colors, and a new digital speedometer that reflects the car's potential by going all the way up to 400km/h.