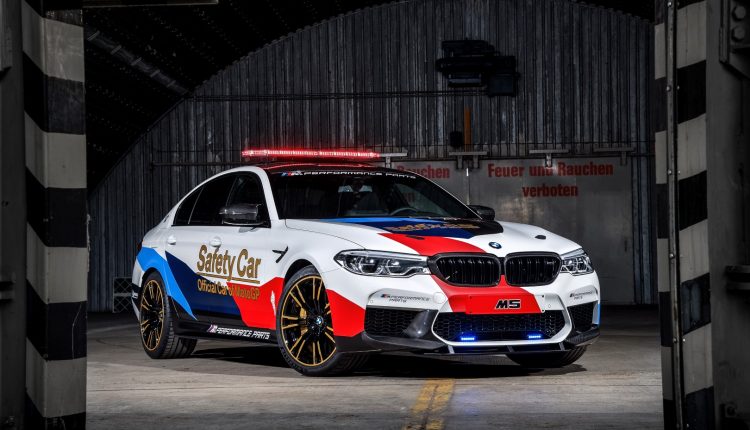 Painstaking manual work at the BMW M Manufaktur in Garching converted the high-performance base car into the BMW M5 MotoGP Safety Car, preparing it to appear as the course car in the world's fastest motorcycle racing series.
This process included the addition of numerous BMW M Performance Parts, many of which are available as retrofit parts for the BMW M5 production model and gives us our first look at the powerful M beast with these presence-creating bits.
These include various carbon components such as side sills, rear diffusor, rear spoiler, front kidney grille, door mirror caps and air breather slats. The BMW M Performance sport exhaust system is made of titanium, with carbon exhaust tips, and has been designed specially for use on the racetrack.
Converting the car to a MotoGP Safety Car included some special racing features and equipment. The front splitter is a prototype developed specifically for the BMW M5 MotoGP Safety Car. The bonnet latches are taken directly from racing. The bucket seats from the BMW M4 GTS guarantee a combination of comfort and maximum security for their occupants when being in action on the racetrack. The flat light bar on the roof uses modern LED technology.
The design of the car has been inspired by the new BMW M8 GTE race car, which will compete for BMW at the 24 Hours of Le Mans next year.