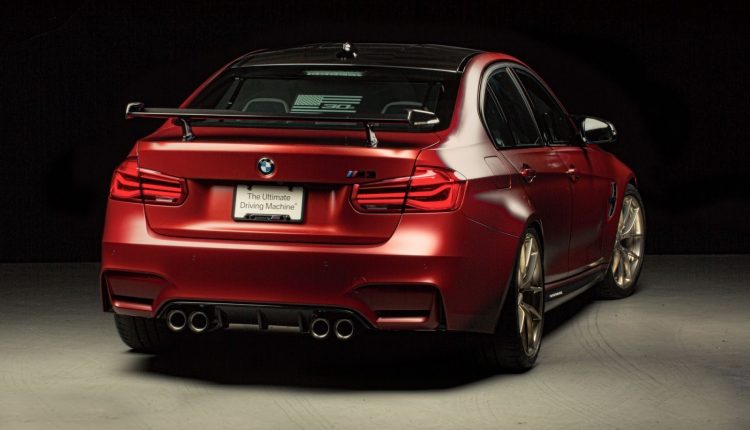 The M machine you see here is a very special M3 designed to help celebrate 30 years of BMW M3 in the United States of America and it has just been unveiled at SEMA.
It is a one-off and it is certainly one of the most polarizing production M3's to ever be created.
The BMW DesignWorks team were responsible for the creation but it was built by the BMW Individual program considering how unique it is.
It wears very unique Frozen Red II paint work with black accents. Its Kidney Grilles are black, as are the air breathers and the mirror caps. One of the most noticeable parts of its exterior is its fixed, carbon M performance spoiler. While fans may not love the big fixed wing, it does make it look more aggressive and help it stand out.
Notice the wheels? Yes that is right it is sporting some gold Style 763M alloys we showed you last week and they look incredible with that matte paint job.
Inside is where things get a bit crazier. In fact it could be the most interesting production BMW M interior I have ever seen.seen. DesignWorks gave it a tri-tone interior, in red, white and blue, as in the American flag. There are also some logos on the trim, which depict an American flag with the number "30" in it.
Want to change gears yourself? Sure thing as this has been spec'd with the manual gearbox and adorned with a new M Performance gear knob.
No performance changes for this special creation but all these unique touches have doubled the base price of the car to a whopping $128,635.