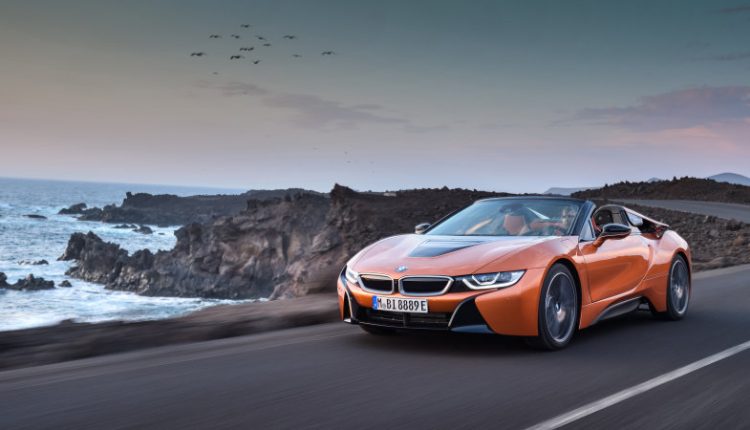 After many teasers and concepts the 2019 BMW i8 Roadster has been shown to the world for the first time at the LA Auto Show.
So what do you need to know? For a start, the electrically operated soft-top roof opens and closes in less than 16 seconds and folds into three segments into vertically oriented 'Z' and uniquely stowing behind the passenger compartment. Bye bye back seats (although they were absolutely tiny so will not be missed).
Rear window is separate from the convertible roof, allowing it to act as a wind deflector when raised
Aluminium roof elements are produced using a 3D printing process
The total weight is now 1,593 kg which is 60 kg more than the Coupe
With this reveal comes the introduction of an updated lithium-ion battery pack for both the Roadster and the Coupe. Energy capacity has been raised considerably from 7.1 kilowatt hours to 11.6. This means the electric motor gets a 12 hp bump to 141 horses.
All-electric range is now 29 km* so up just 5 km (not double as anticipated) from the current i8 but it can now hit 105 km/h without using the three-cylinder petrol engine.
BMW make note that the 228 hp turbo three-pot has been updated to sound a bit better and generate lower emissions but what we are interested in is the fact that it can now hit 100 km/h from zero in 4.2 seconds (Coupe), while the i8 Roadster will do it in 4.4 which is the same as the current Coupe.
We already knew about the new E-Copper paint option but you can also choose from Donnington Grey exterior paint and a new Tera World Copper interior trim (seen in the pictures).
*Preliminary figures