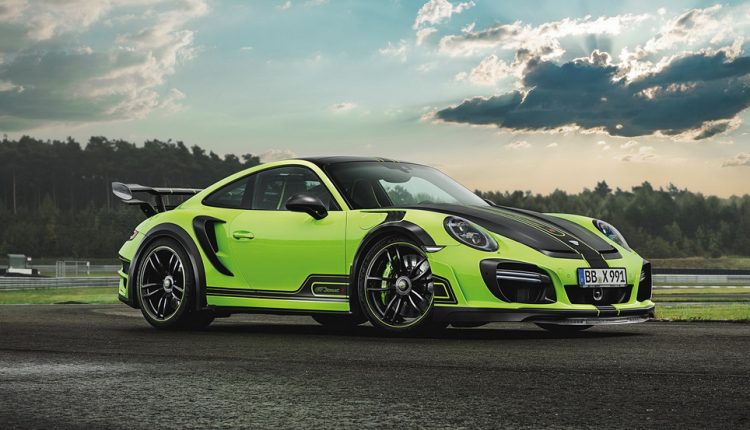 As far as TECHART creations go, the latest GTstreet R is the real deal and transforms your Turbo / Turbo S into a powerful track-focused beast.
We received word from RACE! South Africa recently of a full GTstreet R build happening right here in South Africa which will make it the first of it's kind in Africa.
On the structural and aerodynamic side, TECHART replaces the body panels with lightweight carbon fibre alternatives, designed with functional improvements over the originals. The front splitter, for instance, features an active aerodynamic element to improve airflow to the water and oil coolers, and the central element helps to reduce lift. 
The front wheel arches feature GT3-style air outlets to reduce pressure and improve brake cooling, and large carbon fibre air intakes force airflow to the engine's intercoolers. At the rear, outlet air ducts, a diffuser and 15-degree adjustable GT-style wing further enhance aerodynamics and cooling. Overall, TECHART claims 321 kg of downforce at 186mph (297 km/h).
The aero and chassis changes are admirable, but combined with their power upgrades they result in something rather scary. You have the the choice between two powerkits; T1.1 and T2.1. The first offering upgrades to 640 hp (471 kw) and 880 Nm of torque but the T2.1 cranks it all the way to 720 hp and 920 Nm of torque. A standard Turbo S packs 580 hp and 750 Nm of torque so whichever powerkit you opt for you will be sure to feel a significant performance improvement.
The car being built in South Africa will be finished in matte silver with all the exposed carbon finished in matte too (see build process pics below). The powerkit the owner has opted for is the beastly T2.1 which means the performance figures improve drastically.
0 to 100 km/h takes just 2.7 seconds, 0 to 200 km/h happens in an incredible 8.5 seconds and it will sprint all the way to a top speed of 340 km/h. The price for all this insanity? All in, including the Porsche 911 Turbo S donor car, a basic GTStreet R will cost £258,540 (UK pricing). The final price of this build is estimated to be around R4.5 to R5 million depending on final spec.
We cannot wait to see this beast once the build is complete! For more information on the kit, please visit TECHART.