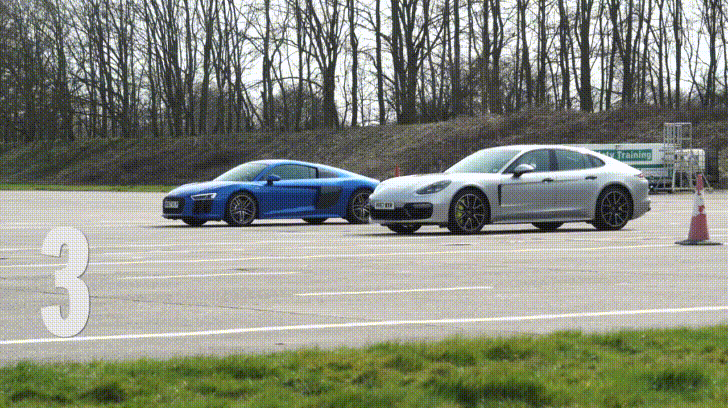 The new Porsche Panamera Turbo S E-Hybrid weighs a whopping 2.56 tons which is a serious figure in this day and age but that does not stop it from being one of the fastest-accelerating four doors in the world.
In this video it goes up against the Audi R8 V10 (non Plus) which weighs just 1.6 tons giving it a substantial advantage in this category.
The supercar from Audi comes with a 532 hp and 540 Nm V10 engine which allows it to spring to 100 km/h in 3.5 seconds, and top out at 320 km/h. The Porsche packs a hybrid powetrain consisting of a
The larger and clearly less fun to drive Porsche is by no means inferior when it comes to showing off in a straight line. Its hybrid powertrain consists of a 542 hp (404 kW) twin turbo V8 and a 100 kW electric motor, combining for 671 hp (500 kW) and 850 Nm of torque.
Despite it's hefty weight, it only needs 3.4 seconds to hit 100 km/h, and can max out at a very impressive 310 km/h.